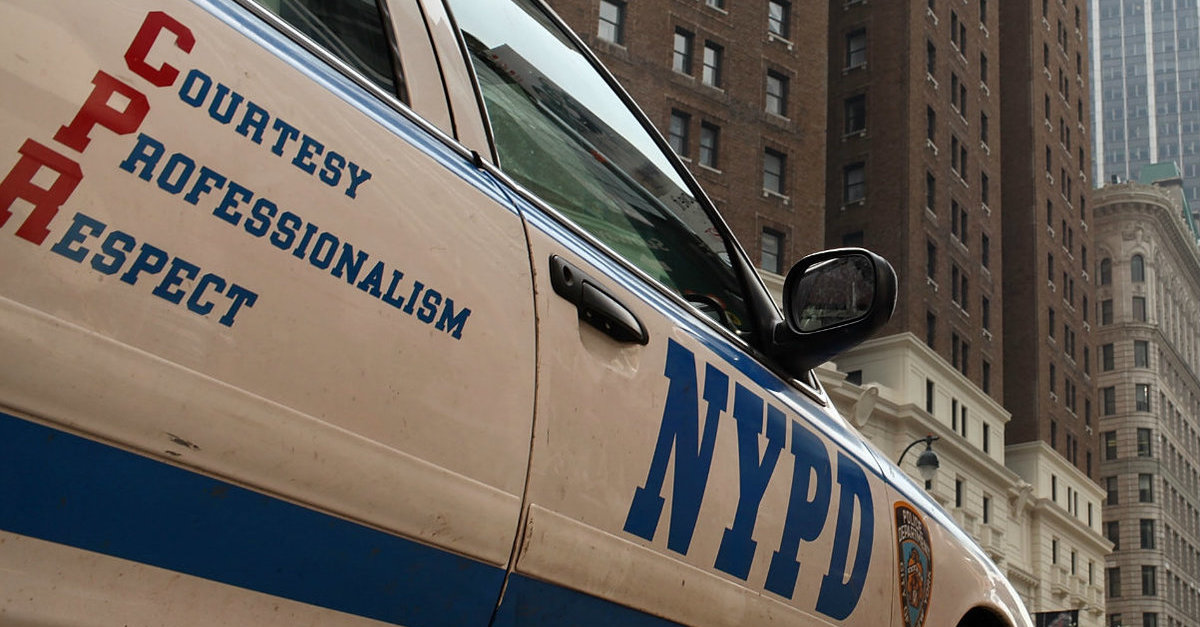 The New York City Police Department (NYPD) is currently investigating a female sergeant for allegedly shoving a pair of her "soiled panties" into a subordinate male co-worker's face.
According to the New York Daily News, Detective Victor Falcon complained that Sergeant Ann Marie Guerra habitually left her underwear laying around the shared, unisex locker room located in the Detective Squad offices of Brooklyn's 72nd Precinct. A source also told the New York Post that other officers have "objected to her leaving her panties on the unisex shower knob and outside her locker for all to see.
Sergeant Guerra is a 38-year-old mother of two. She's also Detective Falcon's supervising officer and the Detective Squad's second-in-command.
On October 7, upon hearing Falcon's complaint, Guerra apparently rushed over and rubbed her dirty underwear in the detective's face–in an alleged attempt to force them inside of his mouth. The Daily News cites "sources with knowledge of the case" for their characterization of the undergarments' alleged uncleanliness.
For her part, however, Guerra claimed her underwear wasn't dirty at all.
"They are fucking clean!" she reportedly shouted at the time of the incident.
After the alleged attack, Falcon filed a complaint with the NYPD's Equal Employment Opportunity office. In a terse statement to the Daily News, the NYPD later confirmed the organization's Detective Bureau investigating "an incident" that occurred between the two officers but declined to provide any details.
An anonymous NYPD source also claimed that certain aspects of Falcon's complaint were being contested–though not the overall turn of events.
It wasn't really much of a fight, the source said, but rather some "exaggerated squad room banter."
And, the same anonymous NYPD source also claimed that Guerra wasn't really trying to force the panties into Falcon's mouth–though that is apparently where they ended up.
"She just put it up to his nose," the Daily News' source noted.
Falcon also detailed a few other gripes with his supervising officer.
According to the complaint, Guerra regularly denied his shift-change requests–even, apparently, when Falcon was attempting to make court-mandated custody hearings for his son. Falcon also claims that Guerra was slow to approve various of the detective's requests for overtime.
Sergeant Guerra apparently isn't well-like at her home precinct. The Daily News report also notes the sergeant "has a salty reputation among her colleagues and has been known to joke about the size of her subordinates' manhoods." A source alleged:
She is a piece of work. She is always emasculating men and commenting on the size of their anatomy. She's a bullying man-hater.
The Post also notes that Guerra recently complained about fellow officers' "little dicks" on Facebook while commenting on an article about how the NYPD recently shamed a female officer who was pumping breast milk while on the job. That phrase appears to be one of Guerra's favorites.
According to a copy of Falcon's complaint obtained by the Post, "Guerra stated to me that if the girl didn't call me back, it is because I had a little dick."
Falcon's complaint continues, pegging Guerra as a dominant if crude presence in the 72nd Precinct and provides the following apparent insight into Guerra's home life. The detective writes:
Sgt. Guerra stated that she used a dildo on her husband during intercourse.
And the identity politics keep on coming, too.
"In the push for gender equality, she's made it–just not in a good way," the source said.
As of this writing, Guerra is still on duty and has not yet been sanctioned for her apparent role in the offending incident.
The hits keep on coming for the 72nd Precinct this year.
In September, Detective Manuel Rodriguez was stripped of his badge and gun due to allegations that he participated in a sex work and gambling ring run by a former New York City cop friend of his.
Before that, the precinct's Deputy Inspector Emmanuel Gonzales was sued by a business owner in Sunset Park over accusations that he was running a protection racket.
A source bemoaned the current and apparently sad state of the 72nd precinct, saying of Guerra, "She's still there, poking fun at Falcon."
[image via via Spencer Platt and Getty Images]
Follow Colin Kalmbacher on Twitter: @colinkalmbacher
Have a tip we should know? [email protected]