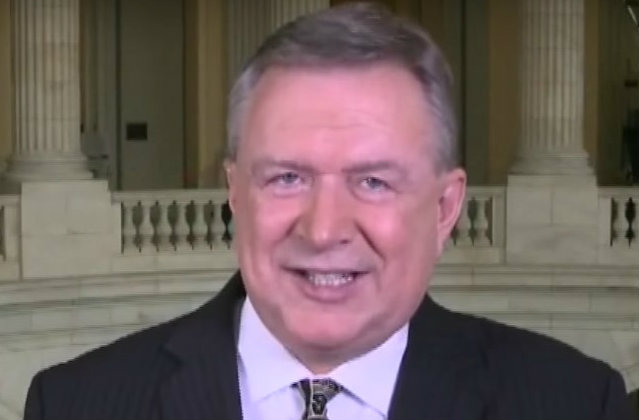 Federal prosecutors say former Texas congressman Steve Stockman used a businessman's donation for personal use, and his political career. Now he claims that it's all just a frame-job by unelected bureaucrats, according to The Houston Chronicle.
"This is part of a deep state that's continuing to progress," he said after a court hearing on Friday. Stockman claimed he's being set-up in retaliation for criticizing the Internal Revenue Service.
This references a long-running conspiracy theory that unelected officials and perhaps other influencers control the government, undermining the will of the people. It gained widespread attention after some supporters of President Donald Trump suggested the previous administration is still undermining the current one. For example, Fox News host and Trump fan Sean Hannity pushed the term around when describing Obama administration holdovers.
As for Stockman, he's been out of the Capitol building for a little while. He served the Texas 9th District from 1995 to 1997, and the 36th District from to 2013 to 2015, also losing a Senate primary for Republican John Cornyn's seat.
He now faces several charges for plucking charitable contributions for his own use.
"It is a crime to make a campaign contribution by one person in the name of another, and to make a false statement to the Federal Elections Commission," FBI Special Agent Vanessa Walther said in a sworn statement obtained by the Chronicle.
The feds say after assuming office in January 2013, Stockman asked $350,000 from an unidentified businessman from Chicago. It was for charity, the congressman allegedly claimed. He got the donation, but instead of using it for a promised training and meeting facility in Washington D.C., Stockman allegedly used it for himself, and has had "conduit contributors" funnel some of the money into his campaign.
Stockman denied charges to reporters on Friday, saying that the amount was really $15,000. He did not explain the discrepancy with the fed's number. The former congressman also brought up that he tried have a former IRS unit director, Lois Lerner, arrested for her contempt of congress charges, suggesting that this played a role in the charges.
Federal authorities arrested him Wednesday as he tried to board a plane at Bush International Airport. He reportedly told them he was leaving for the United Arab Emirates as part of a project to support Sunni Muslims.
[Screengrab via The Daily Ledger]
Have a tip we should know? [email protected]