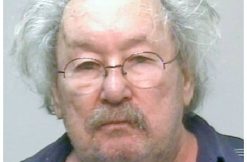 A Georgia man is behind bars after he allegedly threatened construction workers with a gun, and called them the N-word. Harold Bishop, 72, faces multiple charges including aggravated assault with a firearm, probation violent, driving under the influence of alcohol, terroristic threats and acts, and "pointing a gun at another," according to Coweta County jail records viewed by LawNewz.com.
Construction worker Nelson King, who is black, told Fox 5 Atlanta that Bishop was driving on Thursday on a closed load. King said Bishop started threatening the workers with a pistol, so they started recording with their smartphones.
"He pulled up on us and he was like get the n-word off the road, I live here, I kill you n-word," King said.
Video obtained by the outlet shows a man identified as Bishop holding a pistol out the driver's side of a white Ford Explorer.
A sheriff's deputy arrived at the scene, and reportedly smelled alcohol on Bishop, but couldn't find his gun.
"I showed police the video and they seen the gun when he pointed it at us, they were like oh he's got to go," King said.
According to court records, Bishop is behind held without bail. His next court date is scheduled for Thursday.
[mugshot via Coweta County]
–
Follow Alberto Luperon on Twitter (@Alberto Luperon)
Have a tip we should know? [email protected]