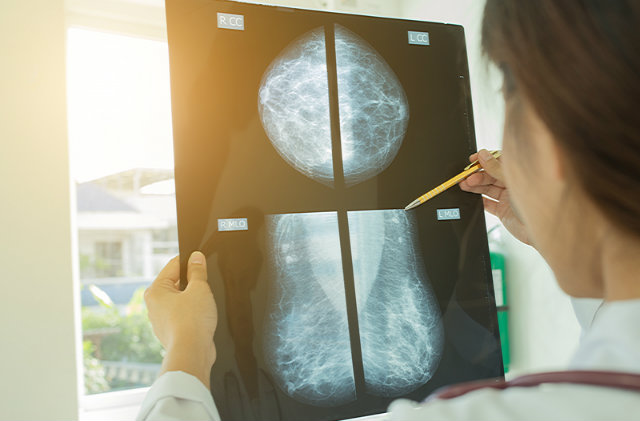 A New York woman says she was diagnosed with cancer, but after getting a mastectomy she learned it was just a benign growth. She told her side of the story in an interview with the New York Post.
Harlem resident Eduvigis Rodriguez, a 51-year-old with grown children, said she got a biopsy at Mount Sinai Beth Israel Hospital after feeling a lump in her left breast. Hospital pathologist Dr. Jean Marc-Cohen checked it out, and apparently discovered she had a form of breast cancer, she said in her lawsuit filed in Manhattan Supreme Court.
So she did what people with cancer do: try to get it out. She was sent to Lenox Hill Hospital in the Upper East Side for surgery. Officials there were supposed to review her pathology report since she had it done at another institute, her lawsuit said. But she claimed it never took place, despite a form signed by her surgeon Dr. Magdi Bebawi.
"I certify that outside pathology slides have been reviewed by the hospital's pathology department," it read.
Bebawi removed Rodriguez's left breast in April 2015, but a post-surgery review from the excised tissue discovered that there was no cancer, the lawsuit said.
A review of the original biopsy's tissue samples by Lenox Hill doctors and Dr. Marc-Cohen allegedly discovered that it really wasn't cancer, but a benign growth called sclerosing adenosis.
In a deposition, Bebawi said he apologized to Rodriguez.
"After the surgery, when I was told that the review of the biopsy showed no cancer, I immediately called her and made her aware that I am very sorry and I feel very bad that we did this procedure for no cancer," he reportedly said, adding that he performed the surgery because of the pathology report he got.
Rodriguez got reconstructive surgery to fix her breast.
Bebawli's lawyer Nat Raines and a Lenox Hill spokeswoman both declined comment to the Post. Corey Wishner, attorney for Mount Sinai Beth Israel, also declined comment, except to say that the hospital was investigating.
[Image via  Chompoo Suriyo and Shutterstock]
Have a tip we should know? [email protected]