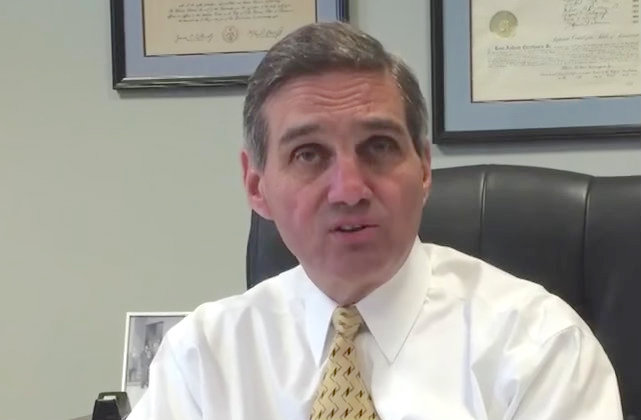 On Wednesday, a Louisiana prosecutor answered a critical report by downplaying fears–and also doubling-down on his most controversial practice: jailing rape victims to make them testify.
From the recent WWL radio interview with Orleans Parish District Attorney Leon Cannizzaro, who is a Democrat:
If I have to put a victim of a crime in jail for eight days in order to keep the rapist off of the street for a period years, and prevent him from raping or harming someone else, I'm going to do that.
This is in response to a new study from a local reform group, Court Watch NOLA. They said it's wrong to jail victims to make them testify. This practice, they claim, hurts the people that prosecutors are trying to help.
"In fact, some prosecutors have taken a public stance against incarcerating victims for failure to cooperate with the prosecution or law enforcement," they wrote. "Houston District Attorney Kimberly Ogg promised to never incarcerate a victim for failing to cooperate with the prosecution. This promise came after her predecessor incarcerated a rape victim and the victim had a mental breakdown while testifying against her aggressor in court."
The group argues that the DA's office isn't paying attention to victims' trauma in cases of sexual assault and domestic violence.
When the report was released Tuesday, Cannizzaro's office quickly disputed it. Assistant District Attorney Christopher Bowman called it "simply sloppy," according to The New Orleans Advocate. He said they misidentified the number of crimes victims who are women, and Court Watch NOLA reportedly corrected the study.
"According to Court Watch NOLA, the DA's Office arrested six people on material witness warrants in 2016, but only one of these warrants was issued for a victim in either a sex crime or domestic violence case," said Bowman. "The district attorney is far more concerned with the numbers 55 and 204, which are, respectively, the number of people murdered and shot in New Orleans in 2017."
Prosecutors reportedly said that that single case involved an alleged victim who couldn't be found in a case in which the perpetrator faced charges of second-degree rape and second-degree battery. That defendant was convicted on the battery count, but court records reportedly weren't clear if she actually testified.
In Wednesday's interview, Cannizaro insisted that the practice, implemented through "material witness warrants," was a measure of last resort. But he didn't take the option off the table.
"They were able to find six cases in which people were in fact jailed," he said. "In the literally thousands of cases we prosecuted." Later adding, "It is a very, very small price to pay. We have a very, vary serious crime problem in the city of New Orleans."
[Screengrab via NOLA.com]
Have a tip we should know? [email protected]