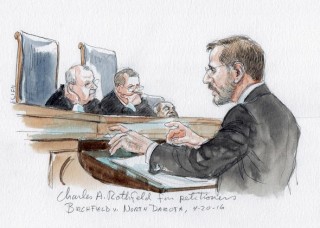 Justice Clarence Thomas is not known to be much of a talker on the U.S. Supreme Court.  In fact, just this term, he asked a question for the first time in ten years. Well, during oral arguments this week, he managed to get a little relaxation in as well.  Longtime SCOTUS sketch artist Arthur Lien caught a moment where it looks like the Justice is not exactly engaged in what the lawyer before him is saying. Apparently, attorney Charles Rothfield  who was talking about the case  Birchfield V. North Dakota wasn't exactly exciting the Justice with his argument.
Watch here to see zoomed in version:
look at this drawing from SCOTUS oral arguments yesterday pic.twitter.com/eSTR9IiEfN

— sarah jeong (@sarahjeong) April 22, 2016

But let's be clear, according to LawNewz.com sources, Justice Thomas is not, in fact, taking a nap. Sketch artist Arthur Lien told us this about what happened during court last week:
He often leans way back in his chair and looks at the ceiling. In this case he may have been reading something or just listening. He does give the appearance of being disengaged at times, but then he'll sit up and lean forward as if he's about to ask a question, which of course he rarely does. I've sketched him both ways. I sketch what I see.
By the way, you can purchase a copy of the drawing for $50 if you are so inclined. Lien has been sketching the U.S. Supreme Court since 1976.  "Where once upon a time news organization each had their own artist covering a story, today a "pool" artist often sketches for all. It is a demanding and stressful discipline where the drawing is often done directly and under tight deadline," he says on his website. 
Thomas wouldn't be the first Justice to nod off during something important.  You might recall, Justice Ruth Bader Ginsburg admits she wasn't "100 percent" sober when she fell asleep during Obama's 2015 State of the Union address. Oops. 
[image with permission from Arthur Lien]
Have a tip we should know? [email protected]
Rachel Stockman - President / On Air Host