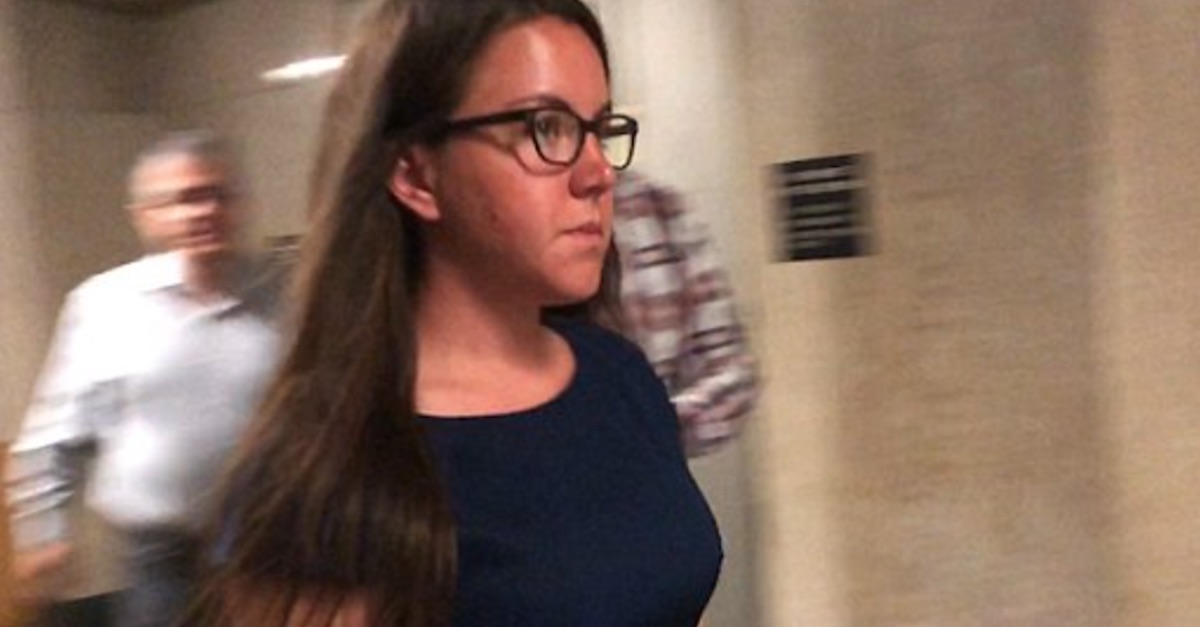 In January 2018, Dori Myers denied that she had performed oral sex on a 14-year-old student. Fast forward to August, and Myers has not only admitted to doing this on "multiple occasions" in "multiple locations," she's also being punished very lightly for it.
According to the New York Post, Myers entered a guilty plea on Wednesday to a criminal sex act and will have to register as a sex offender. What Myers won't have to do is go to jail or surrender her teacher's license. The latter detail is perhaps the most jarring. Instead, Myers will spend the next 10 years on probation, leaving her little margin for error henceforth.
Myers made headlines as the 29-year-old Bronx, NY, high school teacher and wife of a sheriff's deputy with a penchant for clothes with messages like "Whisky makes me frisky" and "Champagne all day." Video of Myers' "scowls" as she left a courtroom months back also added to the noise surrounding her case.
Myers, who was a social studies teacher at The New School for Leadership and the Arts in Kingsbridge, reportedly entered her guilty plea a day earlier than anticipated to avoid media coverage. Myers has lost her job, but her lawyer asked the judge to "preserve the possibility" his client can teach "adults now or in the future."
"She still is a talented teacher and has those skills, and I don't see any reason to destroy her ability to make a living and to contribute to society in a positive way," Myers' lawyer Andrew Stoll said. The judge did not strip Myers of her license and said that it was up to the Department of Education.
Judge Michael Orbus emphasized that Myers would have to register as a sex offender.
Stoll had said in the past that allegations against his client were untrue and that Myers was an "outstanding teacher."
"My understanding is she's a really outstanding teacher," he said. "It sounds like no good deed goes unpunished. You reach out to make yourself available to kids, and the next thing you know, a single accusation can destroy your career."
[Image via Daily Mail screengrab]
Have a tip we should know? [email protected]