A deputy sheriff in Boyd County, Kentucky has been suspended without pay after posting a racially charged Facebook comment about Barack and Michelle Obama. The post, which has since been deleted, said, "That Muslim holler monkey has been evicted … now him and his shemale need to get gone!"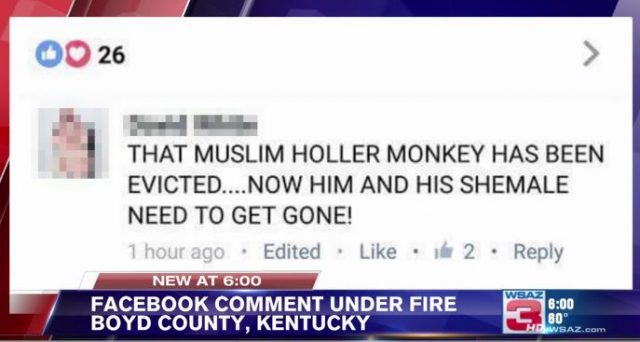 Sheriff Bobby Jack Woods confirmed to WSAZ that the post was indeed from one of his deputies, whose identity is being withheld. The deputy is now in the middle of a 24-day unpaid suspension, which is the maximum penalty allowed by the office's policy. Sheriff Woods told the local station he would not comment further on an action involving an employee.
Brian Hewlett, directing attorney for the Department of Public Advocacy Trial Office in Catlettsburg, Kentucky, said in a statement:
Any bias against a person for their religion, race or sexual identity must not be tolerated in our legal system. The post referenced in our local media disparages individuals in an offensive and repugnant manner that betrays a deep and troubling bias. This type of personal bias is disqualifying and should not be held by anyone charged with upholding the values of fairness and equality in the discharge of their official duties. The person who made these statements clearly possesses an inability to fairly interact with all citizens of Boyd County.
Have a tip we should know? [email protected]