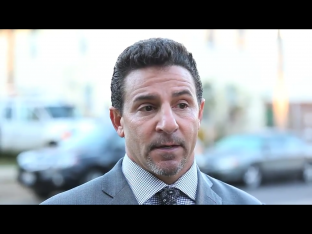 A prominent Cleveland defense attorney who was publicly admonished by a federal judge for cursing at a prosecutor during a sentencing hearing is not taking his punishment lying down.  Attorney Craig Weintraub said cursing is "commonplace" and he called the contempt proceeding a "monumental waste of taxpayer dollars."
According to Cleveland.com, a Deputy U.S. Marshal reported overhearing Weinberg call Assistant U.S. Atttorney Michael Sullivan a "f****** a******" and a "piece of s***" during and after a sentencing hearing in November.  U.S. District Court Judge John Adams did not overhear the comments, but he ordered a hearing on the matter after receiving the report.
Several witnesses testified at the hearing, after which Judge Adams concluded "overwhelming evidence proves that Attorney Weintraub misbehaved in the presence of the court."  Rather than hold Weintraub in contempt, Judge Adams decided that a public admonishment was the appropriate remedy because Weintraub apologized to AUSA Sullivan and the Court.  Although, the order noted that Weintraub did not offer "the most compelling apology the Court has heard."  The judge referred the matter to the Ohio's Office of Disciplinary Counsel "to allow that office to determine whether any sanction should flow from the conduct."
While apologetic in court, Weintraub seems to be taking a different tone in a recent interview about the incident.
"This process of a contempt proceeding started against me because a deputy who transports criminals from a federal facility to federal court acted as if he was traumatized by hearing curse words," Weintraub said to Cleveland.com. "Now, I don't know how inexperienced this guy is, but curse words are commonplace among most criminals and law-enforcement agents and criminal defense attorneys, and, believe it or not, holier-than-thou prosecutors."
Weintraub is well-known for representing Ariel Castro, the Ohio man who allegedly kidnapped three women and kept them as locked up in his home for several years.  Castro pleaded guilty to the crimes and then hanged himself with a bed sheet in his prison cell.
It is well worth the time to a few moments to read Judge Adams' full order, below:
Weintraub Admonishment by LawNewz
[image via screengrab]
Have a tip we should know? [email protected]