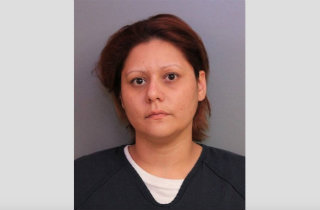 How far would you go for a loved one? For Deniz Martinez of Lake Wales, Florida, the answer to that question appears to be "pretty far." But she didn't exactly think through the most clever way to achieve her goal.
According to a Facebook post from the Winter Haven Police Department, her boyfriend, Jason Drake was visiting his probation officer on Tuesday and had to take a mandatory drug test. Maybe they feared that he wouldn't pass the test, because after Drake had been in the building for six hours without producing a sample. Martinez allegedly called in a bomb threat to help empty the building. When the 911 operator tried to ask additional questions, the caller hung up.
Martinez's plan of calling 911 and saying that a man outside of the probation office was going to "blow the building up" failed for one simple reason…she apparently used her own phone. When police called her after the dust cleared, she admitted to making the call. She was charged with Filing A False Report Concerning Planting a Bomb while Drake, of course, got a probation violation for not submitting a urine sample. The investigation is ongoing and additional charges could be filed. It's unclear at this point if either half of the couple has retained a lawyer as of yet.
Have a tip we should know? [email protected]