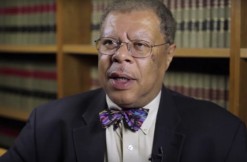 Michigan officials are accusing one state prosecutor Stuart Dunnings III of paying for sex hundreds of times over a five year span.  State Attorney General Bill Schuette made the announcement during a Monday press conference. After a federal investigation, the 63-year-old Dunnings, who has served Ingham County for almost 20 years as an elected public servant, faces 15 charges, and a potential 20 year stay in prison.
In the most serious of the accusations, Dunnings allegedly leveraged his authority to make a woman (who was seeking help on a custody case) have sex with him. The woman said she was being abused by the father of her child and accepted the prosecutor's solicitation to get his help, according to an affidavit. For about a year, Dunnings allegedly paid her $200 on a biweekly basis for sex, police claim.
Police say Dunnings used sites like Escort Vault and Backpage to find prostitutes. Investigators say it  became a regular part of his routine, with sometimes four "meetups" a week.
Dunnings is out on a $5,000 bond after a Monday arraignment. Dunning is a Democrat who faces reelection in November. However, The Ingham County Clerk Barb Byrum told the Lansing State Journal that he has not filed for re-election yet.  Schuette is calling for his resignation, though, according to the New York Daily News.
You can see Schuette's press conference here, via Lansing State Journal:
[h/t Lansing State Journal]
–
Follow Alberto Luperon on Twitter (@Alberto Luperon)
Have a tip we should know? [email protected]