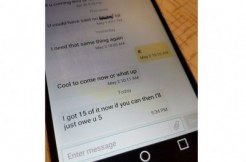 Cops in Alliance, Ohio think it'd be awfully swell if customers of an alleged drug dealer would stop calling his phone.
Steve Notman was arrested Tuesday after he was caught on footage allegedly selling crystal meth, according to a Facebook statement by the City of Alliance Police Department. They said it wasn't the first time he's been cuffed.
But there was something getting in the way their investigation: his customers.
"We have his phone and are trying to read all your texts requesting drugs and going through all of his contacts (with his permission) but you keep calling and texting and it's really annoying."
No joke. Most police statements simply advertise recent arrests or wanted notices, but whoever wrote this one must have been in a bad mood.
"First of all, he is all out of drugs for tonight," the statement read. "Secondly you don't need to call – we will come to you soon enough. Oh, and his ringtone is terrible!"
Breaking news: Ohio has the nation's sassiest cops.
Police posted a picture of what's presumably Notman's phone displaying texts.
[image via Facebook]
–
Follow Alberto Luperon on Twitter (@Alberto Luperon)
Have a tip we should know? [email protected]