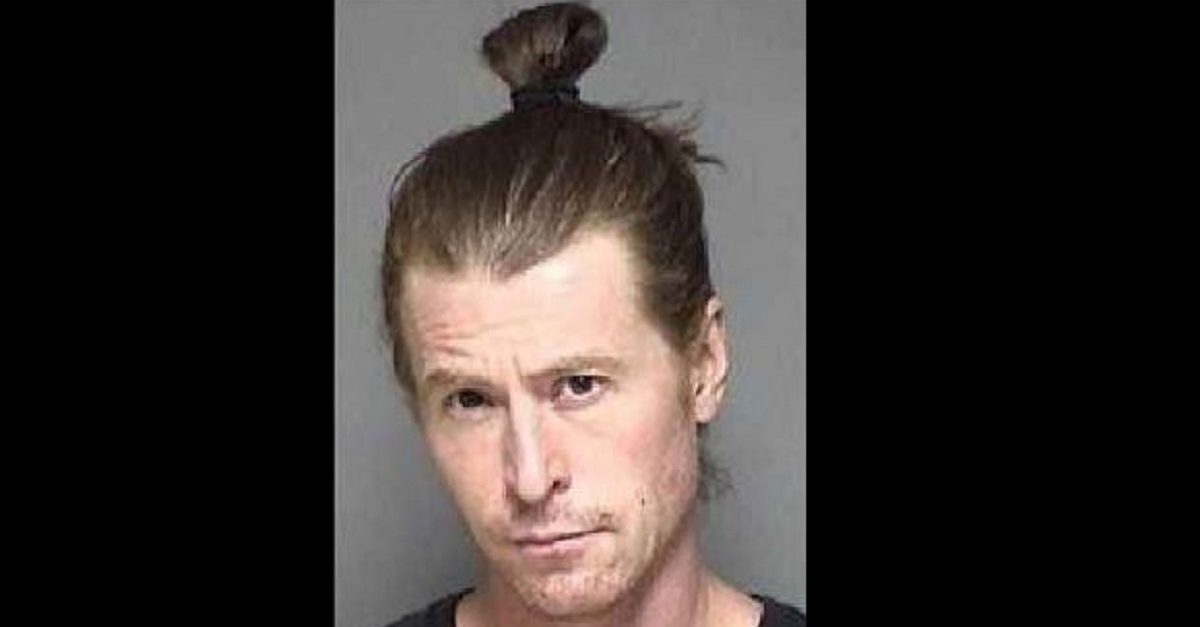 People are known to yell some wild things at political rallies, but Samuel Thomas Spadino may have taken President Donald Trump by surprise when he repeatedly yelled, "Dad!" during an event at Minneapolis' Mayo Civic Center on Thursday. Apparently it caused enough of a disturbance that Spadino was tossed from the venue and arrested.
Security initially tried to get Spadino to leave, but he resisted, according to the Post Bulletin. Police then arrived and helped escort him out of the building. The Secret Service had Spadino placed at the local Adult Detention Center, and he was charged with obstructing the legal process, trespassing, and two counts of disorderly conduct.
Rochester Police Lt. Mike Sadauskis said that nine other people were arrested at the rally, but this wasn't Spadino's first controversial moment at a Trump rally. In June, the president himself went after Spadino, who was holding a sign with images of Trump and convicted pedophile Jeffrey Epstein.
"Go home to your mom, darling," Trump reportedly said. The president also commented on Spadino's man-bun hairstyle, calling his gender into question "because he needs a haircut more than I do."
After that incident, Spadino published a piece titled, "An open letter to Donald Trump, from the 'man-bunned protester' in Duluth." The open letter asked him about his association with Epstein.
As for the recent incident, Spadino pleaded not guilty at a court appearance on Friday, and has a potential trial date of January 28, 2019.
A Twitter account that appears to belong to Spadino shared an article that included a photo that he says is exculpatory. The image shows him being led out of the Mayo Civic Center.
Finally got some photo evidence of me NOT fighting back or resisting. These charges will be dropped because they are a bigger joke than my dad joke. https://t.co/uBRfnJUvDX

— Sam Spadino #manbun2020 #TrumpEpstein (@partydino) October 6, 2018
"Finally got some photo evidence of me NOT fighting back or resisting," he tweeted. "These charges will be dropped because they are a bigger joke than my dad joke."
In another tweet, he said, "I did nothing wrong and they dragged me out, roughed me up, and threw me in jail overnight."
Have a tip we should know? [email protected]