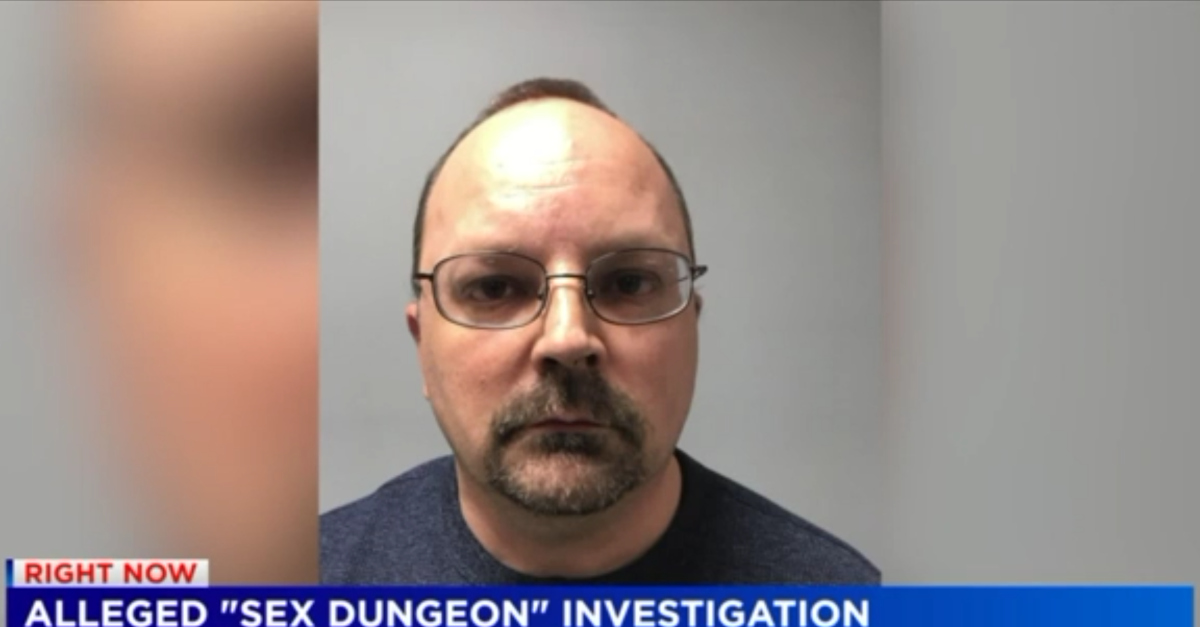 State police in East Hartford, Connecticut claim that a local man sought sex with what he believed to be a young girl, between the age of 10 and 12. Simon Hessler, 46, is being held in lieu of a $1 million bail, according to The Hartford Courant.
A female detective first got in touch with the defendant after he used an email account to solicit photographs of young Mexican girls for a "casting couch interview," according to the arrest warrant obtained by the outlet. A sting operation ensued.
Hessler allegedly claimed he had a dungeon for slave training, and proved it with photos of an "an elaborate sado-masochism room with multiple beds with whips and chains and handfuffs on the wall," police said. This included a picture of a cage with a padlock, cops claimed. The defendant allegedly demanded a 12-year-old foster child. They established a drop-off point at a camper-trailer in front of the hotel, and a $500 price for two days of "limitless sex (but no bruises)" with a "sixth-grade" girl, cops claimed.
The detective took a picture of a helpful, handcuffed "very petite" narcotics detective wearing a black hood, according to the warrant. She sent this to Hessler, who texted back the location of the money in the trailer, police said.
Hessler's trailer parked at his hotel, the Baymont Inn & Suites in Manchester was his alleged drop off point for sex trafficked kids before he brought them to the training dungeon in Vernon. @FOX61News pic.twitter.com/cYKNehNpUn

— Matt Caron (@MattCaronTV) November 15, 2018

Based on these allegations, it's no surprise Hessler was reportedly arrested when he arrived at the scene in a pickup truck. Police claim he admitted to making the demands but he said that he didn't intend on having sex.
Police said they discovered the so-called "sex dungeon" at his business New England Hospitality Management.
When contacted by cops, his wife allegedly asked if this had anything to do with underaged girls, and supplied officers with 11 flash drives she discovered in their bedroom.
Hessler is charged with attempted conspiracy at trafficking in persons, attempted felony to patronize prostitute, second-degree attempted sex assault, attempted impairing the morals of a minor, attempted unlawful restraint, attempted cruelty to persons, and attempted promotion of child pornography, according to FOX 61.
Law&Crime confirmed that he is scheduled for a court appearance to take place December 12 in Manchester, Connecticut. He doesn't have an attorney of record.
[Image via FOX 61]
Have a tip we should know? [email protected]