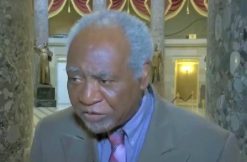 The teen grandson of U.S. Congressman Danny Davis (D-Illinois) was murdered Friday night in Chicago. It was all over a pair of gym shoes, police said.
15-year-old Javon Wilson was at home with his two little brothers, police told The Chicago Tribune. Their mom was out getting food, and while she was gone, two other teens allegedly entered home and started arguing with Javon. Things got heated and one of the suspects, a 15-year-old boy, shot the victim in the head, police said. In an interview with the Tribune, Davis said the other teen was a 17-year-old girl.
Person of interest ID'd in murder of Rep. Danny Davis grandson. Shooting not random & not home invasion. Minors in dispute over gym shoes

— Anthony Guglielmi (@AJGuglielmi) November 19, 2016
"He was a typical 15-year-old," Davis said about Javon. "He liked basketball. If you listened to him he was a basketball star, but he liked basketball and music. All those kinds of things. He was an avid sports fan. He knew all about, you know, the stats of different players."
Chicago 's murder rate is infamous nationwide, to the point the city has been called "Chi-raq." It had more killings than New York City and Los Angeles in 2015, though it did better than some smaller cities on a per capita basis, according to a Tribune article from January.
Update – November 20, 6:00 a.m.: A police spokesman made this announcement.
2 ppl of interest (juveniles) taken into custody for questioning & now classified as suspects in murder of Rep. Davis grandson Jevon Wilson.

— Anthony Guglielmi (@AJGuglielmi) November 20, 2016
Detectives are continuing interrogations. 1st degree murder charges expected. CPD will release additional info on offenders once charged

— Anthony Guglielmi (@AJGuglielmi) November 20, 2016
Update – 9:17 a.m. Some early media reports, including our own, had the victim's name as "Jovan." This is not the case, so we've corrected the spelling to Javon.
[Screengrab via C-SPAN]
Have a tip we should know? [email protected]