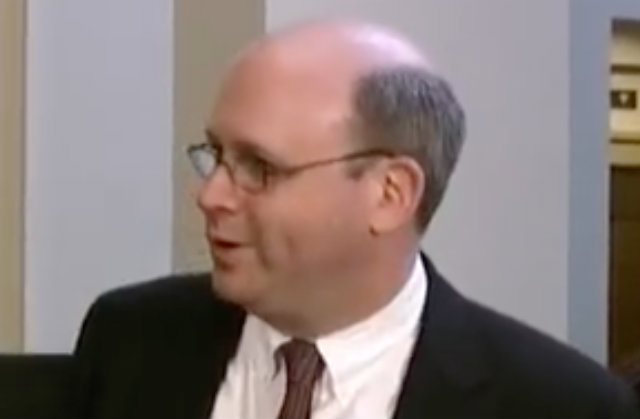 Tuesday evening brought a new Washington Post report that said the Clinton campaign and the Democratic National Committee funded the infamous Trump dossier. In April 2016, Marc E. Elias, the lawyer representing the Clinton campaign, got Fusion GPS to do opposition research on Donald Trump, according to sources described as "people familiar with the matter." But the thing is, Elias previously denied such a thing, said a New York Times reporter.
When I tried to report this story, Clinton campaign lawyer @marceelias pushed back vigorously, saying "You (or your sources) are wrong." https://t.co/B5BZwoaNhI

— Kenneth P. Vogel (@kenvogel) October 24, 2017
Law Newz reached out to Elias for comment. He did not respond as of press time.
The House Intelligence Committee subpoenaed a bank's D.C.-area branch to give up Fusion GPS' financial information, so investigators could discover which clients funded this dossier. Fusion, known as Bean LLC, sued the bank on Friday in a Washington federal court to stop this, claiming that chairman Rep. Devin Nunes (R-CA 22nd district) didn't have the authority to issue this subpoena because he previously recused himself.
That might be a moot point, however, assuming the WaPo report is true. Expect every single thing about this to be a fiery political football. The Trump dossier, put together by a former British intelligence officer, claimed that Russia got some salacious kompromat on the president (the "pee tapes"), and used it to blackmail him. In the WaPo story, sources said that dossier author Christopher Steele wasn't directed by the Clinton campaign or the DNC. They merely described him as a subcontractor for Fusion GPS.
Though the kompromat allegation remains unverified, these are pretty bad optics, considering that four U.S. intelligence agencies agreed in January that Moscow staged election-related cyberattacks to help Trump win the presidency. A special counsel and several congressional committees are investigating whether his campaign had anything to do with it.
The president has emphatically denied all accusations, and is already trying to undermine the dossier. Here's a tweet from Saturday:
Officials behind the now discredited "Dossier" plead the Fifth. Justice Department and/or FBI should immediately release who paid for it.

— Donald J. Trump (@realDonaldTrump) October 21, 2017
Update – Oct. 25, 10:21 a.m.: Late Tuesday, The New York Times reported that Elias' law firm, Perkins Coie, admitted to retaining Fusion GPS on behalf of the Clinton campaign and DNC. Perkins Coie General Counsel Matthew J. Gehringer issued a letter in the Fusion GPS lawsuit on Tuesday, freeing the research firm from maintaining client confidentiality in this case.
"Further, given the interest in this issue, we believe it would be appropriate for all parties who hired Fusion GPS in connection with the 2016 presidential campaign to release Fusion GPS from this obligation as well," he wrote.
In the WaPo report, research into Trump started under a GOP client during the primary, before the Democrats got involved. Fusion GPS researchers reportedly discovered Trump's alleged ties to Russia at this time. Gehringer, in his letter, claimed Fusion GPS approached Perkins Coie about doing opposition research on Trump. He wrote that the research firm previously did this work for "one or more other clients during the Republican primary contest."
Have a tip we should know? [email protected]