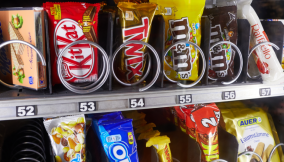 A number of CIA employees were released after a series of vending machine thefts in 2012 and 2013, a declassified Office of Inspector General (OIG) report says.
A Freedom of Information Act lawsuit allowed for the report to be released to BuzzFeed News, which details the thieves' schemes to steal vending machine snacks.  According to the report, the employees unplugged cables that connected the machines to FreedomPay, an electronic payment system, which allowed them to use FreedomPay cards that were "unfunded", which gave them access to free snacks.   The report says that $3,314.40 worth of snacks were stolen.
After the thefts were recorded more frequently, the OIG had technicians set up surveillance cameras at "key vending locations where a high number of thefts were taking place."  A number of perpetrators were promptly caught in the act on video.
The number of employees involved in the scheme is unclear, but the identified suspects all admitted to the thefts and were fired by their contract employers.  The Department of Justice declined to press charges after the OIG referred them the case on the grounds that the "administrative action by the Agency" was appropriate.
[Image via Shutterstock]
Have a tip we should know? [email protected]