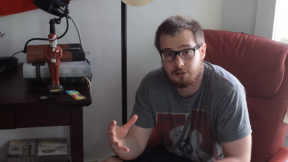 A Chicago high school teacher is facing an investigation after making hateful statements about Jews and Muslims on his YouTube channel.
Daniel Berry, who teaches music at Kenwood Academy High School, was suspended after students informed school officials about a series of bizarre videos he posted online, including several where he touts his Christian faith while railing against Jews and Muslims. Some of the videos, posted as recently as February 19, discuss Jewish conspiracies, including a book review of the Protocols of the Elders of Zion, the known anti-Semitic hoax that the Times of London exposed as a fraud in 1921. He refers to Islam as wicked, and says that the only Jews and Muslims who are good people are those who don't follow their religions.
In another video, from July 2015, Berry describes a dream about a "tranny devil" who remained in the room with him after he awakened to a bout of sleep paralysis. Berry offered a possible explanation for the encounter, mentioning an idol he has in his apartment that he purchased at a "voodoo shop" in New Orleans.
A Chicago Public Schools official told DNAinfo that Berry is suspended pending an investigation, but would not indicate if it was related to the videos. Berry himself stated that he is still employed by Kenwood, but declined to comment any further.
[h/t DNAinfo.com, Screengrab via YouTube]
Have a tip we should know? [email protected]