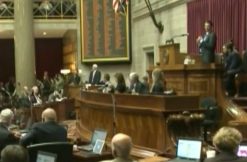 One candidate for the Missouri House of Representatives says another one lied when she said he sexually assaulted her. Steven Roberts II filed a defamation lawsuit Thursday in St. Louis Circuit Court against Cora Faith Walker.
In September, Walker wrote a letter to House leaders announcing that she pressed charges against Roberts, and that she wanted them to keep him from getting sworn in until the investigation was complete. But on Tuesday, a prosecutor declined to pursue this case, citing lack of evidence.
Walker said that the decision left her "angry and terrified," according to the St. Louis Post-Dispatch.
At this point, it's all but certain that they'll be coworkers after Election Day: These Democrats are running unopposed in different districts.
And now Roberts is suing, claiming defamation, intentional infliction of emotional distress, malicious prosecution, and negligent infliction of emotional distress. He claims that they dated, and had consensual sex. Walker has said no, they had no relationship.
We've reached out to her for comment on the lawsuit, and will update when we hear back.
[Screengrab of Missouri House of Representatives via KSHB]
–
Follow Alberto on Twitter (@Alberto Luperon)
Have a tip we should know? [email protected]