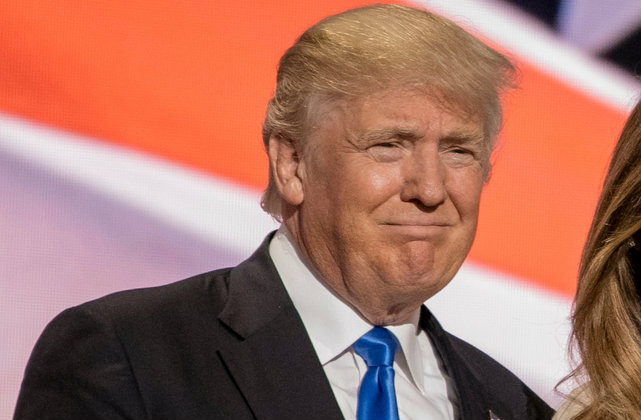 When Apostolic minister Jorge Ramirez supported Donald Trump in the 2016 presidential election, he didn't expect to soon face deportation. But that's where he finds himself.
"Trump said, 'Let's keep all the good people here and all the bad people out,'" he told The San Diego Union Tribune in an interview. "That's great, but I'm here," Ramirez said of his detention situation. "If I'm here, anybody can be here. I'm not saying I'm the best person in the world, but I've tried to live a good life."
Being an undocumented immigrant, Ramirez couldn't vote, but his daughter, a U.S. citizen, could. He had encouraged her to vote for Trump, and volunteer with the campaign of Rep. Darrell Issa (R-Vista). Interesting enough, he still supports the president, despite being in detention since May.
Oceanside minister supported Trump, now he faces deportation https://t.co/pSF3kPVGrE pic.twitter.com/Kkgv1k1QEr

— The Union-Tribune (@sdut) July 1, 2017
"Everything that he's said against immigrants—It's not that I'm in favor, but bad people don't belong here," he said. "In order to make America great, you have to have people contributing to this country."
A bond hearing was rescheduled from Thursday to August after attorney Ruben Salazar introduced a 210-page packet in court, and Ramirez must remained locked up at least until then. The lawyer argued this violated his client's constitutional rights, though Judge David Anderson said he needed more time to read the new filing.
Salazar hopes to show that Ramirez is an exemplary person, with significant ties to his community. Support documents in the packet included tax records, letters of support, school achievements (in high school, he was a part of the Marines' Junior Reserve Officers' Training Corps), and awards won by his three children.
"He's the kind of immigrant America seeks to have," Salazar said, according to the outlet.
Ramirez has no criminal record.
Hardline immigration policies are hardly new. Deportations were quite high even under the Obama administration. Trump's presidency is still young, but a report from the Immigration and Customs Enforcement boasted that arrest numbers from January 22 to April 29, 2017 were up compared to the previous year because POTUS tweaked immigration policy through executive orders.
Numbers are up even for people who committed no crimes, but were simply undocumented, a civil offense.
"While these data clearly reflect the fact that convicted criminals are an immigration enforcement priority, Homeland Security Secretary John F. Kelly has made it clear that ICE will no longer exempt any class of individuals from removal proceedings if they are found to be in the country illegally," they said. "This is evident by the rise in non-criminal arrests over the same period, which increased from approximately 4,200 in 2016 to more than 10,800 in 2017."
[Image via mark reinstein and Shutterstock.com]
Have a tip we should know? [email protected]