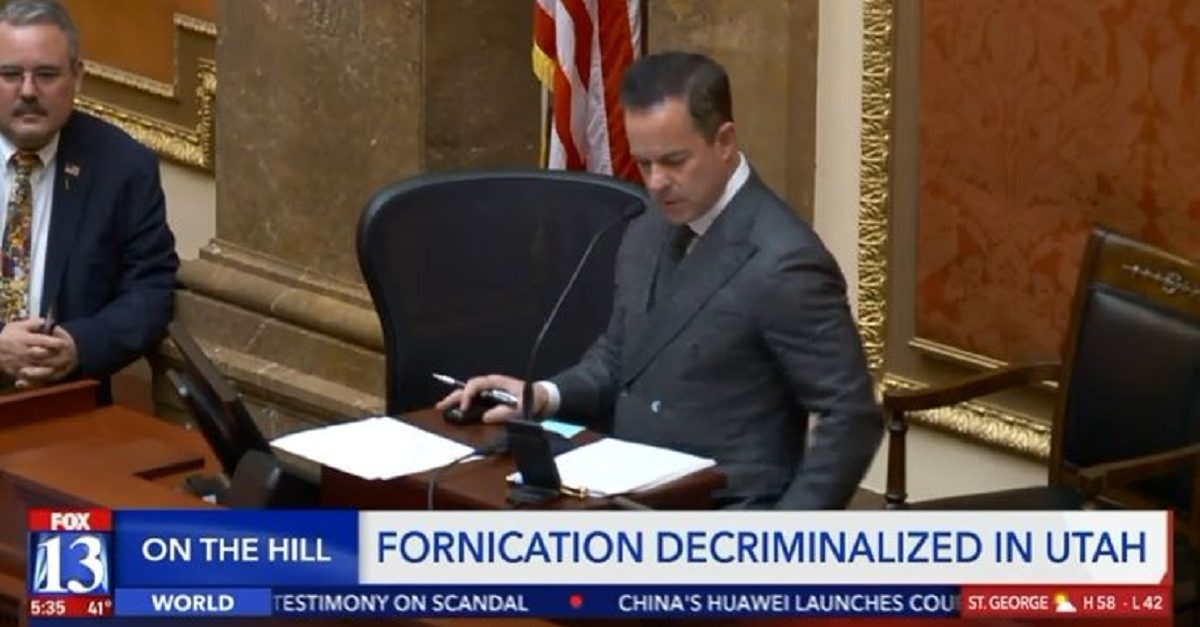 Utah Gov. Gary Herbert (R) has officially signed a bill into law that makes having sex outside of marriage a thing you can't be jailed for. S.B. 43, which specifically decriminalizes fornication, was signed "quietly" last Wednesday by the governor, Fox 13 reported.
In case you were not aware, fornication was something that was technically a misdemeanor that could result in up to six months behind bars or a $1,000 fine. In other words–especially back in the day–sex outside of the confines of marriage better have been covert rather than overt.
How was this law to be enforced, you ask? Your guess is as good as the lawmakers who determined that curbing "offenses against the family" was a futile endeavor.
According to local KUTV, the fornication law has not been enforced, as police and prosecutors do not pursue such cases. In 2003, Georgia removed a similar law, with a court decision saying the government cannot "reach into the bedroom of a private residence and criminalize the private, noncommercial, consensual acts of two persons legally capable of consenting."
As Law&Crime noted before, S.B. 43 aimed to make a variety of changes to the Utah penal code, including Section 76-7-104 of the Utah Code. The fornication statute was among laws classified under Offenses Against the Family. Other crimes under this chapter of the Utah Code include those related to abortion, sale of children, incest, bigamy, and adultery.
That statute, in relevant part:
Any unmarried person who shall voluntarily engage in sexual intercourse with another is guilty of fornication.
"What is legally is often far below what is morally right," Utah Rep. Keven Stratton (R) said before. "And I recognize our laws are not strong enough to rule an immoral people."
Ronn Blitzer contributed to this report.
[Image via Fox 13 screengrab]
Have a tip we should know? [email protected]