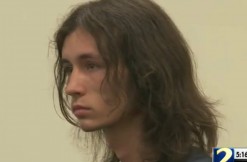 Two 17-year-olds were found dead behind a Publix grocery store on August 1, and the autopsy results are only leading to more questions. Medical examiners in Roswell, Georgia say the bodies of Natalie Henderson and Carter Davis were discovered in apparent poses, according to records obtained by Fox 5 Atlanta.
The two had been shot in the head. Davis, wearing only shorts, was "possibly posed in a cross-like position" with his arms out. Henderson was naked, "legs widely separated," and a feather in her hair. Both victims had apparent burn marks on a big toe.
The suspect, Jeffrey Hazelwood, 20, was arrested on August 3. At a preliminary hearing on Friday, a detective testified Hazelwood watched the pair before approaching them, going as far as to climb the top of the Publix, The Atlanta-Journal Constitution reports.
An arrest report obtained by the AJC claimed he took jumper cables from Davis' vehicle, and later used Henderson's debit card at a gas station.
Now he faces a stack of charges: two counts of murder, two of aggravated assault, two of theft by taking, one of possession of a firearm during commission of a felony, and one of financial transaction card fraud. He faces a possible death sentence, and his in-court behavior had been irregular: speaking aloud, shaking, and petting an apparent imaginary animal during an August 5 hearing, according to CBS 46.
[Screengrab of Hazelwood via WSBTV]
–
Follow Alberto Luperon on Twitter (@Alberto Luperon)
Have a tip we should know? [email protected]