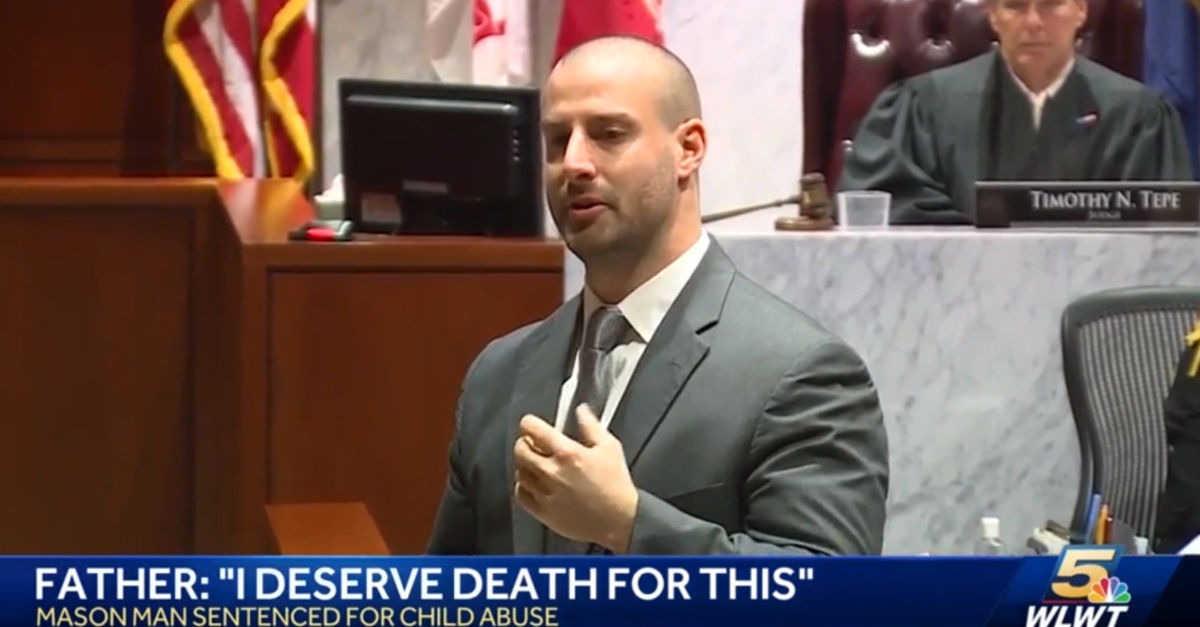 Ohio man Jason Bittner admittedly shook his infant daughter and caused life-altering injuries. What did he have to say for himself at the sentencing hearing on Tuesday? He said that God would forgive him.
"Years from now, the Lord will redeem this," he said in a Warren County Common Pleas Court, according to WLWT. "I know this. My savior Jesus will redeem all of this and everything that was lost will be brought back."
According to a news release from the Warren County District Attorney's Office, the girl, then 3-months-old, sustained brain damage, multiple hemorrhages, 28 rib fractures, a fractured leg, and facial bruise.
Authorities say the incident happened February 26 of this year. Bittner admittedly shook the child because of his frustration with the infant "endlessly crying and screaming," prosecutors said. The girl was "vomiting, seizing, twitching, had visible marks under her eyes, was running a fever, and was unresponsive and incoherent," authorities said. But instead of quickly taking responsibility, and getting medical treatment for his daughter, Bittner, a chiropractor, tried to cover it up, and lied to his wife about happened. He even tried to blame his 2-year-old daughter for causing the injuries, the D.A.'s office said.
The infant's long-term condition remains unclear.
"Anyone who has ever parented a newborn child understands that it is stressful. But for a father to be so frustrated with a helpless infant that he would physically assault her, cause her to suffer lifelong brain damage, fracture her ribs in 28 places, fracture her leg, and then refuse to get her medical treatment and instead blame others for causing her injuries—it's just incomprehensible and inexcusable," said Warren County Prosecutor David P. Fornshell.
Cell phone date cited by authorities showed that Bittner complained about the infant being a girl. He wanted a son.
"I was heartbroken when [my daughter] was born because I wanted a son so bad," he said in a text message read by the prosecution in court.
Judge Tim Tepe sentenced him to 8 years in prisons, the maximum sentence for the second-degree felony of endangering children.
Bittner said Tuesday that thought he deserved death for what he did. Even so, he asked for the court to "give me a chance. "
"When the court gives me an opportunity, I'm going to be the kind of dad that adult women dreamed of having when they were little girls," he said, according to WLWT. "I ask for my daughters' sake that you don't trash my life completely. Don't snuff me out. Don't put me all the way down. Don't hurt my daughters that way."
[Screengrab WLWT]
Have a tip we should know? [email protected]