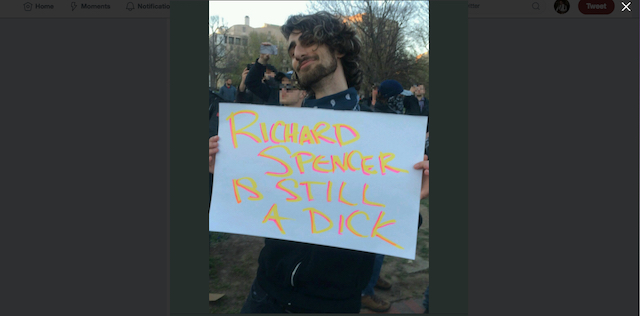 An anti-fascist professor has been placed on administrative leave after he tweeted comments interpreted to be anti-police.
Michael Isaacson, an adjunct economics professor at John Jay College of Criminal Justice, wrote:
Some of ya'll might think it sucks being an anti-fascist teaching at John Jay College but I think it's a privilege to teach future dead cops.
The tweet was sent on August 23. It went largely under the radar for awhile, until the Patrolman's Benevolent Association (PBA), the country's largest police union, recently became aware of the words and their authorship.
The PBA's Pat Lynch then wrote a letter to Isaacson's employer, saying that the professor "harbors total disdain for the active and future police officers that he teaches at John Jay College." That letter, sent Friday, demanded Isaacson's "immediate dismissal."
John Jay president Karol Mason stopped just short of that and immediately suspended Isaacson instead. She wrote:
I am appalled that anyone associated with John Jay, with our proud history of supporting law enforcement authorities, would suggest that violence against police is ever acceptable.
Isaacson's suspension occurred after New York City Mayor Bill de Blasio courted the controversy and staked out a position in line with the PBA's. He tweeted, "New York City won't stand for the vile anti-police rhetoric of Michael Isaacson and neither should John Jay College."
The hot-water-doused professor then retweeted de Blasio's input, saying the mayor "messed up big." Isaacson also responded to de Blasio on Twitter. He wrote:
First @NYCMayor has taken a swipe at the administrative autonomy of John Jay College and CUNY…Second, @nycmayor has taken a swipe at free speech and academic freedom…Third, @NYCMayor is placating PBA with a costless symbolic demand to avoid having to meet the MATERIAL demands in contract negotiations
Isaacson's third point references de Blasio's refusal to approve a pay increase for the NYPD–and underscores an often tumultuous tenure and adversarial relationship between New York City's mayor and police force.
Leaving aside the tit-for-tat allegations of anti-police bias between the professor and the mayor, Isaacson's suspension does raise alarm bells on constitutional Free Speech grounds because John Jay College is a public institution of higher education. Therefore, John Jay employees are seemingly protected by the First Amendment.
LawNewz reached out to John Jay College's public relations department via phone and email specifically regarding the First Amendment issues raised by the mayor's meddling and Isaacson's suspension, but did not receive a reply at the time of publication. This post will be updated if and when the college responds.
[image via screengrab]
Follow Colin Kalmbacher on Twitter: @colinkalmbacher
Have a tip we should know? [email protected]