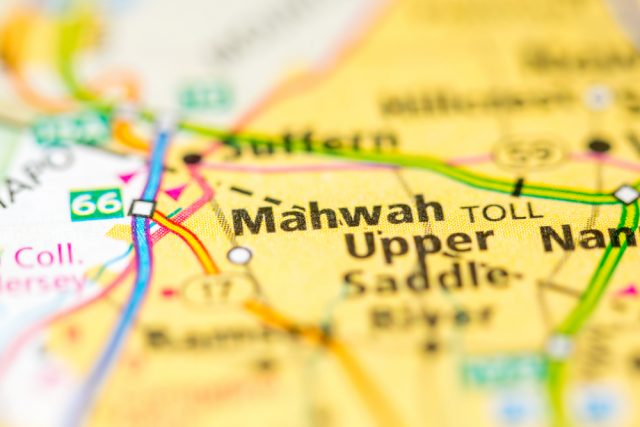 A township in New Jersey has been accused of proposing and enacting rules aimed at keeping Orthodox Jews out, according to a complaint filed by the state's attorney general.
In a statement announcing the lawsuit, New Jersey Attorney General Christopher S. Porrino said:
This is an extensive complaint that lays out a variety of serious allegations and a number of legal theories, but the bottom line is very simple – the township council in Mahwah heard the angry, fear-driven voices of bigotry and acted to appease those voices.
The Mahwah Township Council recently enacted Ordinance 1806 and debated enacting a so-called Sign Ordinance. Both of those legislative actions or attempts are cited in the attorney general's lawsuit against Mahwah Township and the Mahwah Township Council. The complaint also takes aim at actions taken by the council to remove an eruv–a barely visible wire that typically hangs from existing utility poles to create a geographically-limited enclosure wherein Orthodox Jews can push or carry objects during the Sabbath and during Yom Kippur.
Ordinance 1806 prohibits the use of Mahwah public parks by those who are not residents of the State of New Jersey. It went into effect late July of this year. Constitutional law diehards may be tsk-tsking the state for a violation of the Commerce Clause, but the State of New Jersey has gone even further, arguing that this ordinance is part and parcel of "an effort to stave off a feared influx of Orthodox Jewish persons from outside New Jersey," according to a statement announcing the lawsuit.
Apparently, Ordinance 1806 was passed after citizens voiced objections–using harshly stereotypical and anti-Semitic language–to township officials about the possibility of Orthodox Jews from nearby Rockland County, New York staging an "infiltration" of Mahwah Township institutions. Rockland County has the largest Jewish population per capita of any U.S. county in the country.
One resident cited in the complaint allegedly submitted the following question/comment to the township council on June 29:
I was wondering if there are any thoughts and procedures in place to keep the Hasidic Jewish people from moving into Mahwah? They have chased us out of two towns we lived in and now they are buying up houses in Suffern.
In addition to the allegedly discriminatory nature of the parks ban, it also appears to violate the contracts and conditions of a state program which Mahwah participated in allowing the township access to at least $3.4 million for the purchase and upkeep of its parkland. The attorney general's lawsuit is now seeking to claw those funds back. The complaint also claims enforcement of the ban would force police officers into conducting constant constitutional overreach by forcing people to show residential documentation.
The aforementioned Sign Ordinance–which never actually passed–banned the posting or hanging of plastic religious strips known as "lechis" which are used to demarcate the boundaries of an eruv. Porrino notes that targeting eruvs is also a constitutional violation. His statement reads, "Specifically, the complaint says, a ban on eruvs – or threats of being issued summonses and fines for not removing the lechis that demarcate eruvs – would interfere with the ability of observant Orthodox Jews to live in Mahwah, thereby denying them housing on the basis of religion."
Porrino continued, "In addition to being on the wrong side of history, the conduct of Mahwah's township council is legally wrong, and we intend to hold them accountable for it. To think that there are local governments here in New Jersey, in 2017, making laws on the basis of some archaic, fear-driven and discriminatory mindset, is deeply disappointing and shocking to many, but it is exactly what we are alleging in this case. Of course, in this case we allege the target of the small-minded bias is not African-Americans, but Orthodox Jews. Nonetheless, the hateful message is the same."
The lawsuit seeks preliminary and permanent injunctions of both the passed and proposed ordinances.
[image via shutterstock.com]
Follow Colin Kalmbacher on Twitter: @colinkalmbacher
Have a tip we should know? [email protected]