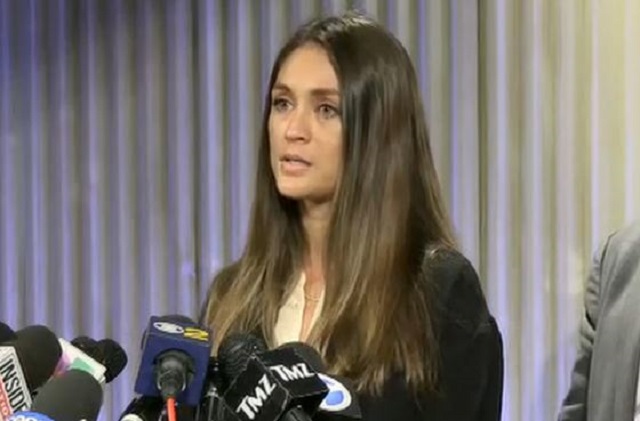 Another actress has come forward with allegations that Harvey Weinstein sexually abused her. Dominique Huett held a press conference with her attorney on Wednesday to discuss the matter, as well as her new lawsuit against The Weinstein Company.
Huett alleges that in 2015, she had a meeting with Harvey Weinstein at the Peninsula Hotel in Beverly Hills, during which he asked to see her breasts, claiming that it's better if she doesn't have implants. According to the lawsuit, Huett refused and was uncomfortable by the request.
Later in the meeting, Weinstein allegedly invited Huett upstairs to a hotel room, and once there, he went to the bathroom and came back wearing only a bathrobe. She claims that he then asked for a massage, and that she said no, only for him to say that he would not take "no" for an answer, so she obliged.
Afterwards, she claims, Weinstein asked to perform oral sex on her, and she again refused, only for him to again say he wouldn't take no for an answer. Huett claims that she was frozen as he then removed her clothes, performed oral sex on her for several minutes, and then masturbated in front of her.
Huett said that after the alleged incident, she left Los Angeles and moved back to New York.
The complaint claims that TWC was aware of Weinstein's history for years and didn't do anything about it, and is therefore liable for negligent retention and supervision. Huell claims that TWC "was aware of allegations of sexual misconduct against Weinstein going back to the 1990s," and "knew or should have known that Weinstein would lure young aspiring actresses into compromising situations under the guise of business meetings."
Her attorney Jeff Herman said it's not just Weinstein who has been guilty of this sort of behavior. He said at the press conference that for decades, Hollywood has operated in ways that were outside the law. In show business, it's referred to the "casting couch," but Herman says in any other industry it would be called "sexual harassment."
"This case is really about putting the casting couch on trial," Herman said.
Huett acknowledged that she technically could have left the room if she had it in her to move, but her lawyer says it doesn't matter.
"However you want to label what happened, it was an imbalance of power, she said no, she was coerced, and it was unwanted sexual touching," Herman said.
[Image via TMZ screengrab]
—
Follow Ronn Blitzer on Twitter @RonnBlitzer
Have a tip we should know? [email protected]