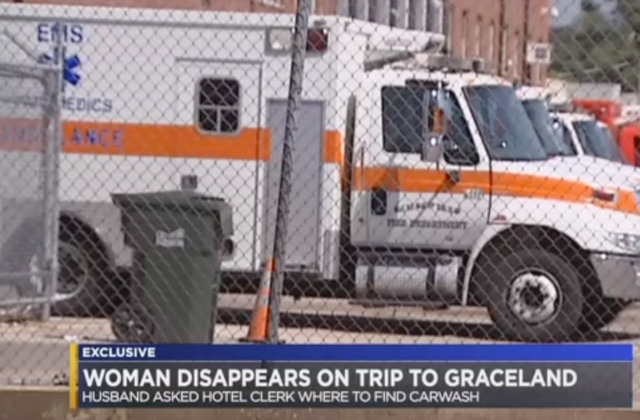 At first, an Ohio man claimed that his wife died during a trip to Graceland. An ambulance took her away, and that was the last he saw of her. Now he allegedly admits to dumping her body in a river, according to WBBJ-TV.
In the beginning, cops handled the case of missing Roberta "Bobby" Snider, 70, as just a disappearance, according to Fox19.
"At this point in time we are considering her to be a missing person," said Lawrence Dordea, chief of the Hartville Police Department in Ohio.
Here is what Snider's husband Philip Snider, 72, originally said happened, according to cops. The couple left their home in Hartville, Ohio on January 4, and they made a stop at a motel in Sparta, Kentucky. They soon made it to Memphis, reaching a Days Inn across the street from Graceland.
Philip Snider, who said his wife had health problems, told police she died when they got to Memphis. He got the attention of an ambulance, which carried her off, and he started driving home the next day.
Here's the thing that's weird: Cops couldn't find records of any ambulance carrying off the body. Memphis hospitals apparently didn't even have documentation of receiving the bodies of any unidentified women. No one could find Snider.
That Days Inn confirmed to Fox19 that Phillip Snider briefly stayed there. They said he paid with his wife's credit card, and they supplied a statement showing the cost was $97.29 for one night. According to that record, Snider checked in at 12:41 p.m. on January 5. He checked out the next day at 3:29 a.m.
"He was constantly asking about which car wash was near and if there are some open," Days Inn clerk Kadesha Sanders told the outlet.
When asked about the couple staying over, the Kentucky motel said they didn't know anything about it.
Philip Snider ended up admitting he dumped his wife in the Tennessee River, according to Benton County Sheriff Kenny Christopher.
"He says he put her body in plastic and disposed of her body over this bridge," he told WBBJ-TV. According to him, Snider said his wife died from cancer on the way Graceland. She died in Kentucky on the ride to Memphis, but he kept on driving. Snider allegedly told cops he dropped his wife's body into the Tennessee River off Interstate-40 during the ride home back to Ohio.
Christopher said searches of the river turned up nothing.
"I hope we can recover a body for the family's sake," he said.
The Hartsville Police Department said they believe Snider's reported claim about the river dumping. Snider is currently staying with family in Ohio, said Christopher, and he will be taken back to Tennessee to help find the body. Charges might be filed once authorities discover Roberta's body.
[Screengrab via Fox19]
Have a tip we should know? [email protected]