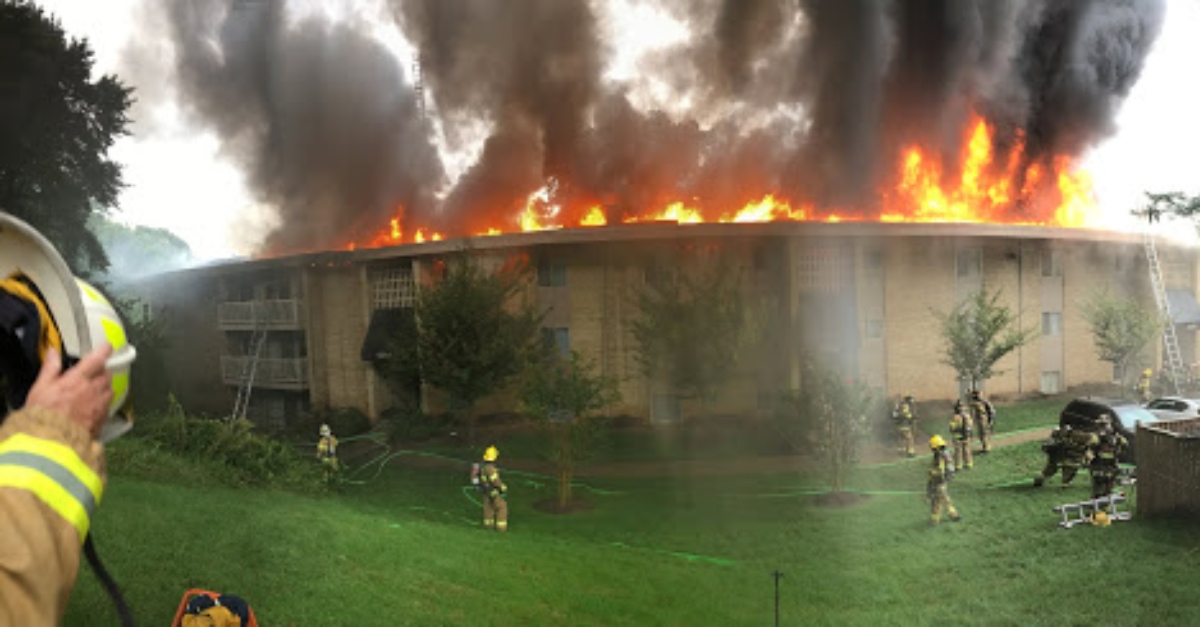 A Maryland woman allegedly started started a fire at an apartment complex because she was mad at her ex-boyfriend, says Prince George's County Fire and EMS. Now about 130 people are displaced.
Natasha Ciara Joyner, 32, was arrested Thursday for first-degree arson, second-degree arson, first-degree malicious burning, malicious destruction of property at over $1,000, and reckless endangerment. More charges are pending, says Prince George's County Fire.
Authorities say that back on September 17, firefighters responded to an incident at 5334 85th Avenue, and found a fire at a three-story apartment building. It took almost two hours to put it out, and it caused an estimated $2.2 million in damages to four apartment buildings. No injuries were reported, but about 130 people were put out of their homes.
Authorities did not elaborate on Joyner's alleged motive beyond her being "upset with an ex-boyfriend." They did not immediately answer a Law&Crime request for comment Friday afternoon.
It's unclear if Joyner, who is being held at the Prince George's County Jail without bond, has an attorney in this matter. She could not be reached as of press time.
Mark Brady, a spokesman for Prince George's County Fire, told The Washington Post that Joyner was named on the lease for the apartment where the fire began.
Lindel Schuyler, 33, said authorities told him the fire started in the unit next door to his. The flames destroyed everything in his home, he told the outlet. He added that authorities said the building was condemned.
"Everything in my apartment was absolutely burned," said Schuyler. He said that he has found a new place to live.
[Image via Prince George's County]
Have a tip we should know? [email protected]