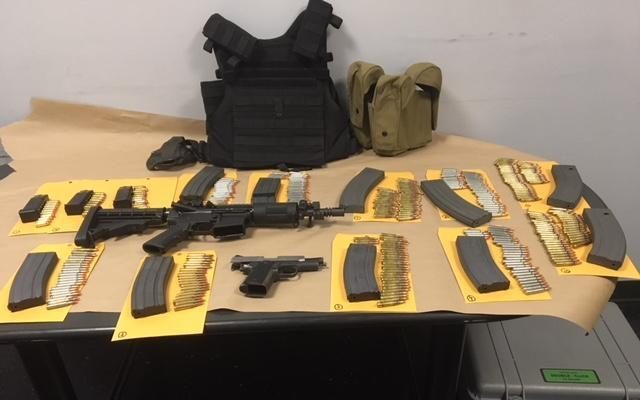 A 70-year-old man that was arrested with an AR-15 rifle, a pistol, and more than 350 rounds of ammunition told police that he was concerned with "jihadists on the highway," The Boston Globe reported.
Stephen White and Krista McCaffrey, 29, were inside a KFC restaurant in Dorchester, Massachusetts when a plain-clothes officer observed an apparent drug transaction. The officer confronted the pair as they were getting back into a car.
When approached, the officer told McCaffrey that "he was aware of what she was up to, and if she was in possession of any illegal narcotics that it would be in her best interest to hand them over," the report said. She quickly produced a bag with a brown substance that was thought to be heroin.
Meanwhile, White confessed to something else. "I'm gonna tell you, I'm armed," he allegedly told the officer. "I've got a pistol on my right hip."
At that point, officers seized the loaded gun and pressed him for his license to carry, which he had. White also admitted to having "an AR in the back," the report said. In the vehicle, police found the AR-15 rifle along with ten loaded high capacity magazines, and a black tactical ballistic body armor vest.
When asked about why he "was possessing this arsenal while operating in the City of Boston," he gave the officer a rather unexpected answer.
"Suspect White responded with a lengthy response which included that he was concerned with 'jihadists on the highway' and that he has ties to [the] U.S. Military; which [is] currently conducting 'tests' on how to address the situation of terrorists on [the] highways," the report stated.
He also noted to police how quickly these "jihadists" could shut down the road. "White went on to say that 'It only takes 7 minutes to block off the highway exits' and he needed to [be] prepared for such an event," the report said.
White was arrested on charges of unlawful possession of a large capacity firearm, unlawful possession of a large capacity feeding device, and knowingly being present where heroin is kept. His companion, McCaffrey was arrested with possession of a Class B substance as well as outstanding warrants for unlawful possession of ammunition and possession of Class E drugs.
"There is no need for any citizen in the city of Boston to be carrying high powered weapons of this kind, and there are just too many of these guns out there," Police Commissioner William Evans said in a statement. "My greatest concern is the safety of our residents and neighborhoods, and my officers and I will continue to do our part to keep high capacity firearms and assault rifles off the streets of Boston and out of the wrong hands."
[Image source: Boston Police Department]
Have a tip we should know? [email protected]