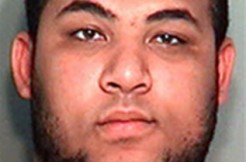 18-year-old Izaha Akins is being charged with two felonies—telecommunications fraud, and impersonating a peace officer—after pretending to be Ohio State Senator Dave Burke in December, authorities announced Friday.
Akins learned Burke was scheduled to speak to a government class in December at a high school in Sycamore. Then he called the school and 12-grade American government teacher Henry Stobbs, saying he was the senator's replacement and wanted the speech to happen earlier, according to Ken Ratliff, Mohawk School District superintendent.
When asked about what happened to the original senator, the wannabe legislator told Stobbs that Burke was resigning due to illness, and was going to announce the decision later in the week, according to the report. Plus, Akins admitted he was an unlikely choice to "replace" Burke, but that he was actually the second choice after the first one declined, Ratliff told the Toledo Blade.
"Through that conversation, Mr. Stobbs was convinced this was legitimate," Ratliff told The Courier. Though reference numbers provided by Akins checked out, the superintendent promised to beef up background checks in the future.
Thing is, Akins was actually a great speaker.
"To my understanding, he did a very good job of the government program he did a presentation on," Wynadot County Sheriff Mike Hetzel told The Courier. Everybody was fooled until Burke showed up for the originally scheduled talk on Jan. 14.
"These country schools think it can't happen to them," Akins told the Blade. "I was duping to prove a point, that these kinds of things can happen. They could easily have Googled me and they didn't."
Akins said school security policies focused out-of-proportion on "urban schools," creating a sense of complacency elsewhere, what he called "the small community effect—they think that this can never happen to us."
Authorities say the school kids were never in danger, while Burke's office issued a statement saying, "This was an extremely elaborate scheme and not as simple as walking through the door. When I learned about this, the school and I immediately began working with law enforcement."
Good thing he still has his job.
[h/t The Courier]
[mugshot of Akins via the Blade]
–
Follow Alberto Luperon on Twitter (@Alberto Luperon)
Have a tip we should know? [email protected]