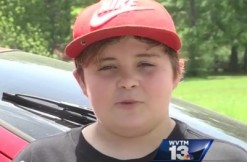 Chris Gaither, an 11-year-old from Alabama, says he shot an alleged burglar at his home on Wednesday morning. Well, police haven't released much information yet, except the man was taken to a hospital, and is expected to recover, The Daily Home reports.
But Gaither talked about the incident with WVTM. He said he'd been home alone when he heard the burglar. In response, Gaither grabbed his family's 9mm handgun. He confronted the man, as one does, catching the perp hoisting a laundry hamper.
This 11-year-old shot a burglary suspect at his house Wednesday. Listen to what happened after he hit his target… pic.twitter.com/rwdnbiBgfT

— Kyle Burger (@kyle_burger) April 28, 2016
Gather says the man didn't seem to the take the boy or the gun seriously. The kid suggested to WVTM that the man thought it was a fake. He also said the man threatened to kill him.
Welp, Gaither said he fired at the suspected burglar, who was about to jump a fence. 12 shots, guys. The final one struck the man in the leg.
"I shot through the hamper he was carrying," Gaither said. "It was a full metal jacket bullet. It went straight through the back of his leg. He started crying like a little baby."
The kid credited his stepdad for teaching him how to shoot.
Gaither's mom told WVTM the same man broke into the house before, but said she didn't know him.
The police investigation is ongoing. Talladega Police Department Capt. Leon Thomas confirmed to The Daily Home in a Wednesday report that a minor had shot the alleged burglar, but didn't provide the kid's name. LawNewz.com have contacted the TPD and are waiting for a response.
[screengrab via WVTM]
–
Follow Alberto Luperon on Twitter (@Alberto Luperon)
Have a tip we should know? [email protected]