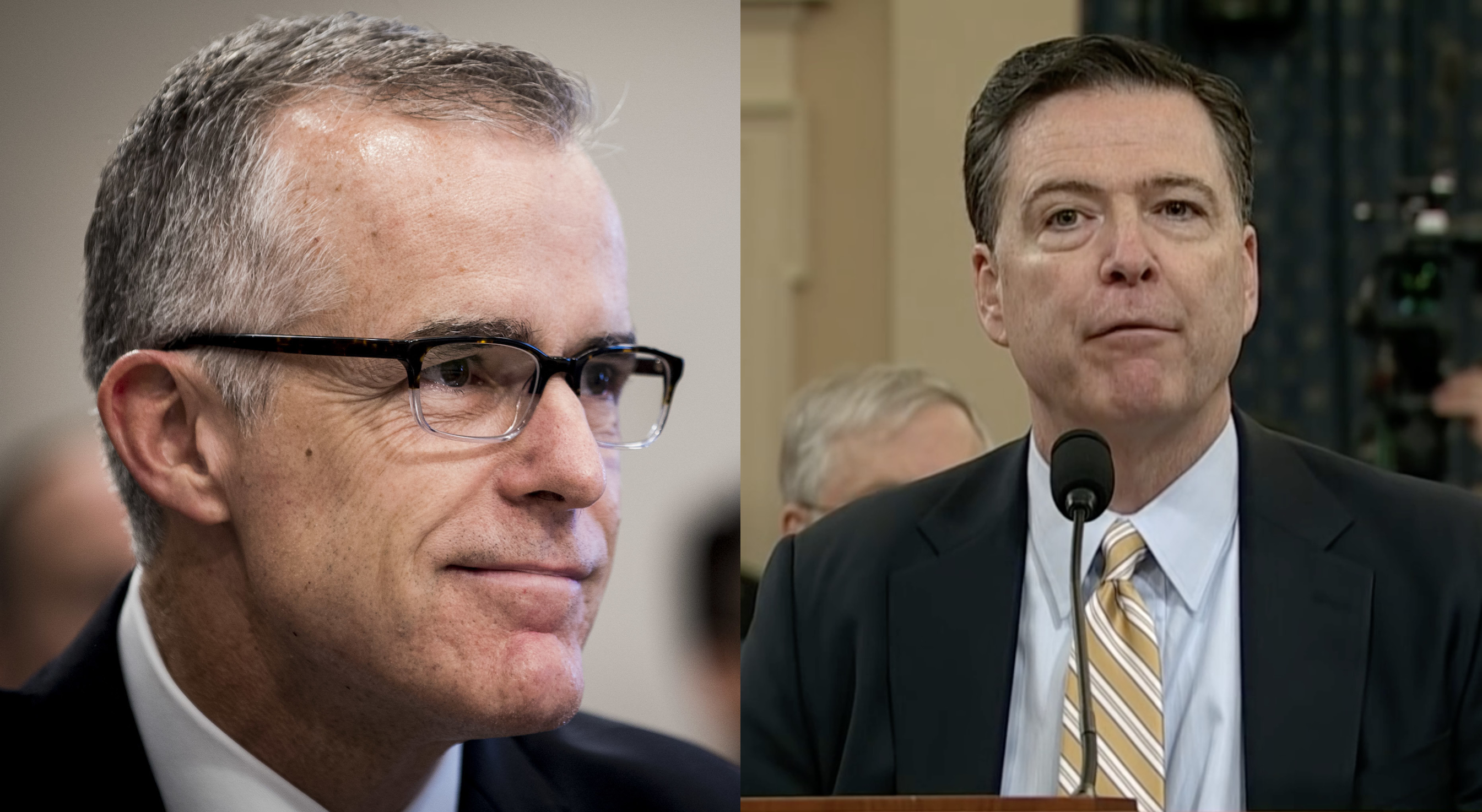 Well, you had to know that drama between Andrew McCabe and James Comey was going to heat up. After Deputy FBI Director McCabe was fired, just two days before his planned retirement, he issued a statement that reflected badly on former FBI Director James Comey. In the statement, which refuted the Trump administration's accusations of unauthorized media leaks relating to the Hillary Clinton email investigation, McCabe said the following about his talks with media:
As Deputy Director, I was one of only a few people who had the authority to do that. It was not a secret, it took place over several days, and others, including the Director, were aware of the interaction with the reporter.
The problem was that Comey had already gone on record that he never leaked information and never approved such a leak. The inconsistency in the two men's official statements was hard to ignore. Legal experts warned about what was to come. Law professor Jonathan Turley told CNN:
[McCabe's] statement is going to trigger another round of inquiries. Who know about this and was this a leak to the media. Comey has already been accused of leaking info after he left. Comey is not out of the woods and McCabe's statement doesn't help him at all.
Now, McCabe vs. Comey is becoming the showdown to watch, at least as far as the media seems to be spinning it.
This week, House Oversight and Government Reform Committee members were permitted to review the report from the FBI's Office of Professional Responsibility (OPR) that started the entire McCabe controversy. On Friday, The Washington Post reported that after reviewing the report, Rep. Jim Jordan (R-Ohio) said in an interview that McCabe lied to Comey about the media leaks.
McCabe's lawyer, Michael Bromwich, has been quick to point out that his client is a victim of partisan politics, accusing Republicans of, "attempting to selectively and unfairly leak pieces of information from a report that is not public." But the real crux of the issue, legally speaking, is the discrepancy between McCabe's take and Comey's take on whether and when Comey was informed about McCabe's talks with media. McCabe's attorney was firm in his client's stance:
One thing is clear: Mr. McCabe never misled Director Comey. Director Comey's memory of these interactions was equivocal and speculative, while Mr. McCabe's recollection is clear, unequivocal and supported by documentary evidence. Director Comey has no specific recollection of what Mr. McCabe told him, while Mr. McCabe remembers the two discussed the article before and after its publication.
For Comey's part, he's already gone on record that he could not recall McCabe having informed him about any such talks with media. At this point, it's impossible to conclude whether any real wrongdoing took place, but it's equally impossible to discount Bromwich's remarks. There's the typical lawyer-on-behalf-of-client boasting, and then there's the phrase that's chilling when it has potential to harm: "supported by documentary evidence."
Reportedly, there are emails between McCabe and Comey that support McCabe's recollection. That is, that McCabe informed Comey about the media leaks; assuming the content of those emails conforms with Bromwich's statements, they'd be tough for Comey to explain. Throw in the very public way McCabe has defended himself while throwing everyone from James Comey to the entire Office of the Inspector General under any available buses, and there is major potential for battle between the ousted FBI directors.
Still, there's always the possibility that all this is simply a difference in memory. CNN reported "a source familiar with the matter" claimed the McCabe-Comey drama was nothing more than a "good faith" dispute over what really took place. That source reportedly said:
They recall it differently. Andy thinks in good faith he told him, and Comey in good faith says he wasn't told. The notion that the two guys are pitted against each other is crazy.
While "crazy" is seriously minimizing the potential for conflict here, McCabe and Comey may just have differing recollections of the same set of events. The top FBI men certainly wouldn't be the first two lawyers who had different interpretations or recollections of emails they'd exchanged.
For now, we'll have to wait and see whether any response from Comey clarifies the larger picture of the McCabe story, and what legal fallout, if any, awaits the two.
[image via via Pete Marovich and Getty Images/FBI]
Have a tip we should know? [email protected]
Elura Nanos - Columnist & Trial Analyst, Law & Crime; CEO Lawyer Up