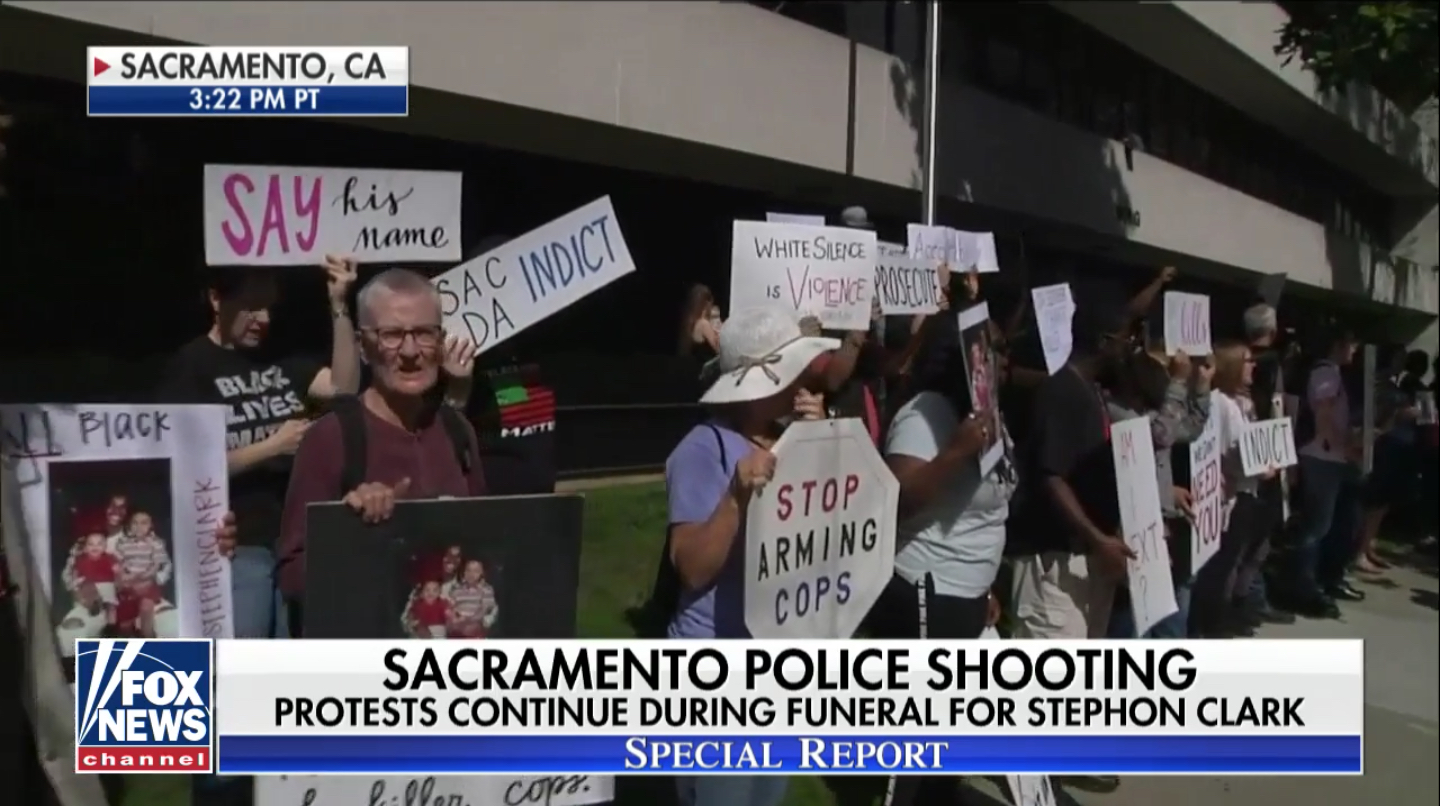 A nurse in California has been fired after posting on social media that, Stephon Clark, an unarmed black man recently killed by police "deserved it."
Faith Linthicum used to be a labor and delivery nurse at Kaiser Permanente Roseville Medical Center in California.
Social media outrage swelled after Clark's March 18 death was heavily publicized by civil rights advocates. An autopsy report and video later revealed Clark was shot in the back by two members of the Sacramento Police Department who allegedly did not identify themselves before firing their weapons.
Linthicum was apparently upset with online sympathy for Clark–and similarly uninterested in the order of events leading up to his death. On or around March 23, Linthicum posted an incorrect retelling of the night Clark lost his life to Facebook. She wrote:
Yeah, but he was running from the police jumping over fences and breaking in peoples [sic] houses…why run??!!! He deserved it for being stupid.
Linthicum's understanding of the night in question is not supported by the facts.
Clark was not running from police at the time he was shot–he was standing still. Nor was Clark ever suspected of breaking into homes–police were looking for a suspect accused of breaking car windows. Rather, Clark was standing in his grandmother's yard and using a cell phone when Officers Terrence Mercadal and Jared Robinet fired 10 shots apiece–striking Clark a total of eight times.
According to the Sacramento Bee, Twitter, Facebook and Tumblr posts shared by activist Christina Arechiga called out Linthicum's statements–including a comment supportive of President Donald Trump's propose U.S.-Mexico border wall. Arechiga's post reads:
I gave birth at Kaiser in Sacramento, it was a horrifying experience plagued with racist nurses and doctors. Kaiser Roseville Women And Children's must do something about these racists once they out themselves. How can we trust our lives, the lives of our black and brown babies to these people? Nurses are supposed to help people not be happy when people die. Please call Kaiser and demand this woman be removed from service! If you have a problem with black and brown people you will not work in our community!
After going viral, the last line in Arechiga's post rings true. Linthicum was fired by Kaiser Permanente on Thursday.
In a statement provided to the media, Kaiser Permanente's Vice President Yvette Radford said, "Kaiser Permanente does not tolerate hate or discrimination and has a long history of embracing diversity and inclusion – it remains a place where we welcome everyone. We want to emphasize that the comments expressed by this employee, who is no longer with the organization, do not in any way reflect Kaiser Permanente's views or actions."
Reflecting on the underlying event, Radford's statement continued, noting, "We are deeply saddened by the events associated with Stephon Clark's death, and will continue to do our part to make sure the community is healthy, safe and inclusive."
[image via screengrab/Fox News]
Follow Colin Kalmbacher on Twitter: @colinkalmbacher
Have a tip we should know? [email protected]