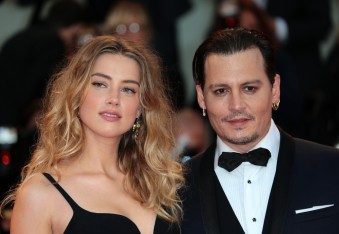 Johnny Depp and Amber Heard reached a settlement agreement on Tuesday, bringing an end to a months long, contentious legal fight that included allegations of domestic violence.
TMZ reports Heard's legal team filed documents on Tuesday to dismiss the domestic violence restraining petition filed in May that alleged Depp hit her in the face with an iPhone.
Also on Tuesday, the two reportedly settled their divorce case.  Terms of the settlement were not disclosed, but sources told the celebrity gossip website Depp will pay Heard $7 million as part of an agreement that also ends the couple's marriage.
Lawyers for both parties are said to have worked diligently over the past few days to reach a final agreement, before announcing the final settlement today.
After the documents were filed, the former couple released the following joint statement:
"Our relationship was intensely passionate and at times volatile, but always bound by love. Neither party has made false accusations for financial gain. There was never any intent of physical or emotional harm. Amber wishes the best for Johnny in the future. Amber will be donating financial proceeds from the divorce to a charity. There will be no further public statements about this matter."
[image via shutterstock]
Have a tip we should know? [email protected]