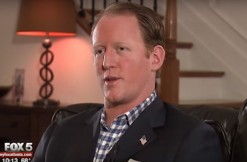 Retired Navy SEAL Robert O'Neill—the man who says he killed Osama Bin Laden—was arrested in Montana on Friday for driving under the influence, police say.
Undersheriff George Skuletich told the Billings Gazette that he was found sleeping in his 2005 Nissan Sentra at a gas station. The car was running, and some lights were on. Officers woke him up by opening the door. Though he refused a breathalyzer, he failed several other sobriety tests.
Police say he was inconsistent during questioning. First he allegedly admitted to having one drink, then walked back that comment. As the Billings Gazette reports, "He also said he may have taken Ambien, a prescription drug most often used to treat insomnia."
Facing a misdemeanor DUI charge, he's been released from jail after posting bond.
In 2014, O'Neil publicly claimed he's the guy who killed Osama Bin Laden, but his claim hasn't received official confirmation. A 2015 report by the Military Times said he was under investigation by the Naval Criminal Investigative Service for possibly sharing classified information. That could've landed him with a court-martial.
[h/t The Billings Gazette]
[screengrab via Fox 5 Atlanta]
–
Follow Alberto Luperon on Twitter (@Alberto Luperon)
Have a tip we should know? [email protected]