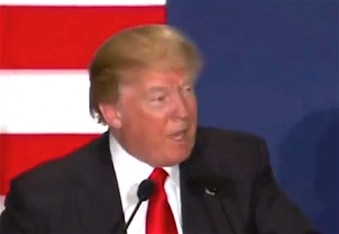 Donald Trump told a crowd at an Iowa rally that they should "knock the crap out" of potential hecklers, and he would pay the legal fees.
"So if you see somebody getting ready to throw a tomato, knock the crap out of them, would you? Seriously. Okay? Just knock the hell – I promise you, I will pay for the legal fees, " Trump said to his group of supporters.
The crowd reacted with some laughter and applause. But could the off-the-cuff Trump statements actually leave him on the hook legally?
Well, yes, potentially. While it certainly seems far-fetched, some legal experts we spoke to say he could potentially be held liable. During this heightened political environment, his comments could be seen as bating supporters to take action.
Here is some background:
Under Iowa law, anyone who "encourages [a criminal act] prior to its commission is guilty of aiding and abetting." That was actually recently upheld in a case that went up all the way to the Iowa Supreme Court –- State v. Tyler (Iowa Jan. 22. 2016). In that case, the court said the defendant was liable for murder even though the man didn't inflict the fatal blow. In fact, the Court specifically held that a statement of encouragement like "go get him" was enough encouragement to qualify.
"So if someone instructs another person to 'knock the crap out of' someone, it could be seen as encouraging a criminal act. At that point, the person giving the instruction would be as culpable as the person committing the assault," Iowa attorney Gary Dickey told LawNewz.com. Dickey's partner handled the appeal in the above case.
So, bottom line, you don't necessarily have to personally carry out a crime to be held liable. So, let's say a Trump supporter sees a man with a tomato at a rally, and decides to pummel him sending him to the hospital visit. There could be an argument made for Trump's criminal liability (beyond just paying the legal fees). And interestingly, this isn't the first time Trump has made statements defending some of his fans for punching and kicking protesters.
Certainly, Trump would argue that he can't be held liable because he was just exercising his free-speech rights. But let's not forget the doctrine of yelling fire in a crowded movie theater. In 1941, the U.S. Supreme Court in Chaplinksy v. New Hampshire basically put some limitations on free speech. The court wrote:
"… "fighting words" those that by their very utterance inflict injury or tend to incite an immediate breach of the peace. It has been well observed that such utterances are no essential part of any exposition of ideas, and are of such slight social value as a step to truth that any benefit that may be derived from them is clearly outweighed by the social interest in order and morality."
"The First Amendment would not afford protection to someone who encourages others to commit violence," Dickey said.
So Mr. Trump better hope no one actually takes him up on his suggestion because he could be in for much more than just steep legal fees.
This is an opinion piece. The views expressed in this article are those of just the author.
Rachel Stockman - President / On Air Host