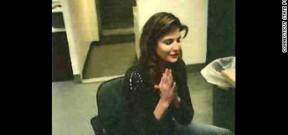 It's no secret that former Victoria's Secret Model Stephanie Seymour is facing charges in connection with a recent DUI charge. The model was arrested in Greenwich last month after a state trooper responded to an accident in the ritzy and affluent town on Connecticut's Gold Coast.
After arriving to the scene, the state trooper identified an incriminating trio of bloodshot eyes, wobbly legs and an alcohol-stained breath. The model and actress backed her Land Rover into a white Mercedes at the stop sign of an I-95 South exit ramp. According to a police report, the trooper found Seymour's vehicle sitting sideways on the ramp.
Seymour refused a field sobriety test and struggled to provide requisite identification to police. "After six or seven requests for her license, registration and insurance, she finally was able to fumble through her purse," the state trooper said. The model eventually handled over license and, unnecessarily, her credit card as well.
Now, upon further investigation by police, Seymour is facing additional charges including evading responsibilities and failure to drive in a proper lane. An hour before her fender bender, Seymour slammed her Land Rover into a utility pole. After her arrest, Greenwich police discovered that the unreported accident with the utility pole was caused by Seymour whose car had consistent front-side damage.
The former supermodel, who appeared in several Sports Illustrated swimsuit editions, is scheduled to appear in Stamford Superior Court tomorrow for State charges and on February 7 for local charges filed by Greenwich police. Seymour was originally released on $500 bail.
[h/t NBC Connecticut]
[Picture via CT Police]
Have a tip we should know? [email protected]