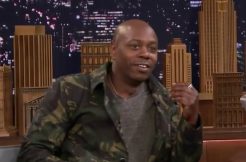 Comedian Dave Chappelle suggested on Friday that Donald Trump was describing consensual interactions during the infamous "grab them by the pu—y" recording. The Observer–run by Donald Trump's son-in-law–reports that Chappelle did a stand up bit in New York City where he argued that the media misrepresented the audio.
"Sexual assault?" he reportedly said. "It wasn't. He said, 'And when you're a star, they let you do it.' That phrase implies consent. I just don't like the way the media twisted that whole thing. Nobody questioned it."
(Fair warning: Chappelle was doing a standup bit, but no one has announced if there is any recording of the material. That's important to note because he mixes tongue-in-cheek silliness with full-on earnestness. Statements can easily be understood one way in performance, and another way in an edited news article. We've reached out to him through his representatives at The Gersh Agency in case there's more to this than face value.)
The Republican presidential candidate has fielded numerous sexual assault allegations both before and after The Washington Post released video in which he jawed with TV host Billy Bush. In the footage, he claimed that he kissed women without prior warning, even grabbing them by the pu—y."
"You know, I'm automatically attracted to beautiful — I just start kissing them," he said. "It's like a magnet. Just kiss. I don't even wait."
Strictly speaking, such actions can meet legal definitions of sexual assault if the woman didn't give consent. During October 9 presidential debate, Trump denied committing such an act, but multiple women made public claims soon after. The four most highly publicized stories were reported by The New York Times, PEOPLE, and the Palm Beach Post.
All four women claimed that Trump's denial at the presidential debate motivated their decisions to step forward.
Trump has continued to deny every single claim against him, and one of his lawyers sent a cease-and-desist letter to the Times for their story. During an October 22nd rally, he said that he'll sue the women after the election, though he didn't list them out. LawNewz.com founder Dan Abrams and columnist Elura Nanos have argued that that was just an empty threat, and that he'd never actually go through with it.
[Screengrab via NBC]
–
Have a tip we should know? [email protected]