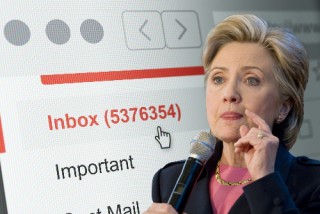 Early Sunday morning, the New York Post reported that according to "emails and FBI memos," Marina Santos, Hillary Clinton's housekeeper at her Washington, DC home, printed out classified government communications in spite of lacking the clearance to do so. This comes on the heels of the revelation that classified communications were also being forwarded to Clinton aide Huma Abedin for the same reasons. The Post article by Paul Sperry suggests that Santos and the computer(s) that she used have never been subpoenaed in the investigations conducted by either the FBI or Congress.
According to the Post, the emails and attachments printed out by Santos included:
Drafts of Clinton's speeches.
Confidential memorandums.
"Call sheets," the notes prepared for phone calls with foreign heads of state.
Multiple classified emails from 2011-2012 were cited as specifically instructing aides to ask Santos to print them or otherwise referred to her printing them.
Santos also reportedly had free reign around secure areas of the home, including Clinton's sensitive compartmented information facility (SCIF), which housed Clinton's secure fax machine. Clinton sometimes got the Presidential Daily Brief prepared by intelligence agencies via her fax machine.
When the Post dropped by Santos' apartment in person on Friday, all she would say was "I don't speak to reporters." Sperry wrote that the Clinton Campaign and State Department did not reply to the Post's requests for comment.
[Photo: Shutterstock]
Have a tip we should know? [email protected]