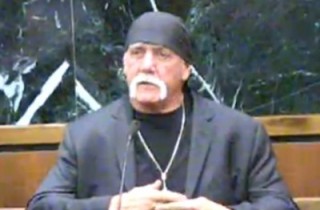 Circuit Judge Pamela A.M. Campbell, the trial judge who presided over the Hulk Hogan — Gawker trial, has had 22 of her decisions reversed on appeal in the past four years, according to a new report.
The Tampa Bay Times reviewed Judge Campbell's record in light of the whopping $140 million verdict awarded to Hulk Hogan in his lawsuit against Gawker and they discovered she has been reversed 22 times on appeal over the past four years — far more than any of her colleagues on the Pinellas County bench.  The next highest is 15 reversals over a four year period but the average for all of the judges in the county is only four reversals.
"The comparative numbers do suggest it is out of line," Sergio Campos, an associate professor at the University of Miami Law School, told the paper.
However, Stephen Thompson, a spokesman for the Sixth Circuit Court, which includes Pinellas County, rejected the implication.
"The fact that a judge has been overturned on appeal more than her colleagues does not in itself mean that she is less competent than they," Thompson said.  "It may hinge on the type of cases over which she presides."
Maybe, but Judge Campbell's reversal rate must be cause for concern for Hogan and anyone else who supports the verdict.  In fact, Judge Campbell's latest reversal by the appellate court occurred on an issue directly related to the Hogan lawsuit.
Last week, Florida's 2nd District Court of Appeals reversed her decision to seal approximately 2,000 documents related to the Hogan lawsuit, including documents that some allege show at least one key witness may have told investigators a different version of what happened than what they ultimately told the jury at trial.  Gawker is likely to make that a key issue on appeal, along with similar arguments about other evidence that Judge Campbell ruled inadmissible at trial.
Furthermore, that is not the only time Judge Campbell has been overruled in this longstanding Hogan — Gawker saga.  In 2012, the appellate court found that Judge Campbell's ruling to temporarily prevent  Gawker from publishing the sex tape on its website was an unconstitutional prior restraint on the First Amendment.
Even before the verdict was rendered, Gawker founder Nick Denton said he felt his best chance would be on appeal.  Based on Judge Campbell's past record, he may very well be correct.
[h/t Tampa Bay Times; image via screengrab]
Update — March 27, 12:11 p.m. EST: The original version of this article misstated the name of Professor Sergio Campos as "Sergio Garcia."
Have a tip we should know? [email protected]