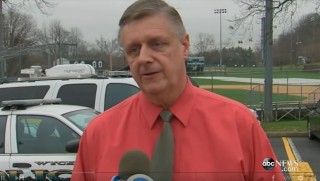 A New Jersey police chief is in hot water after leaked e-mails he allegedly sent to subordinates seem to encourage racial profiling. Of course, political correctness is to blame for why racial profiling should not be used.
The ACLU of New Jersey claims the email was sent by Chief Benjamin Fox of the Wyckoff Police Department. Chief Fox allegedly advises his officers not to "'dumb down" just to be politically correct," and goes on to say, "Don't ask the police to ignore what we know." There it is, the operative phrase — "what we know." What Fox allegedly insinuates about race is confirmed as the e-mail memo reads on.
"Profiling, racial or otherwise, has it's place in law enforcement when used correctly and applied fairly." In the quote, Fox misses the possessive and the point. Profiling and fairness are mutually exclusive. Profiling is, in and of itself, unfair. To say "profile fairly," assumes a subjective understanding of fairness. In the context of Chief Fox's alleged statement, fairness is an amalgam of personal experience and anecdotes — "fairly," to him, means black people in white neighborhoods and vice a versa. Further, Fox's statements assume there is a correct way to profile. What exactly, then, is the incorrect way to profile? That distinction is as muddled as his comments are ignorant.
Profiling is, by definition, based on a standard of unequal protection — that one race, or religion, is unequal because of the way they are perceived, or because of the beliefs they ascribe to. In the next sentence, Fox says, "Unfortunately we have never heard that from our President, top political leaders or our US Attorney General." So, not only does he espouse discriminatory policing practices, but Fox believes the onus is on our nation's top officials, legal and political, to praise a system of "fairly applied profiling."
"That's why we check out suspicious black people in white neighborhoods. White kids buy heroin in black NYC neighborhoods. That's why the NYPD stops those white kids. The police know tl1ey are there to buy drugs," Fox goes on to say. These sentiments echo those of Maine. Governor Paul LePage, who made headlines with racially motivated remarks about drug dealers in early January, "These are guys by the name D-Money, Smoothie, Shifty," LePage said. "Incidentally, half the time they impregnate a young, white girl before they leave. Which is the real sad thing, because then we have another issue that we have to deal with down the road."
In his book, "Profiles in Injustice: Why Racial Profiling Cannot Work," David A. Harris, Professor of Law and Values at the University of Toledo College of Law and a Soros Senior Justice Fellow, noted that the New York Attorney General's office shows that even though more blacks than whites were stopped and frisked for concealed weapons, the arrest rate for whites was actually higher.
Sure, this is one data set, but the support for rejecting profiling is superfluous. It simply doesn't work, it distracts from more effective policing strategies, it protects the majority and perpetuates harmful falsities about minorities by assuming white people are law-abiding, it distracts from cooperative community policing by creating racial and authoritative tensions, it creates Fourteenth Amendment Equal Protection clause issues, it metastasizes racial bias by creating a culture of assumed behavior and it cripples race relations and creates a second-class citizenry, a new Jim Crow.
The Wyckoff Township Committee reportedly met in an emergency meeting Tuesday night and Chief Fox agreed to step down for the time being with pay, according to NJ.com. The ACLU reports that the New Jersey Attorney General's Office is currently probing the complaint.
Chief Fox's comments, if true, have no place in law enforcement and are destructive to our collective understanding of crime and socio-economic issues on both a micro and macro level.
[h/t PhillyVoice]
[screengrab via ABC News]
This is an opinion piece. The views expressed in this article are those of just the author.