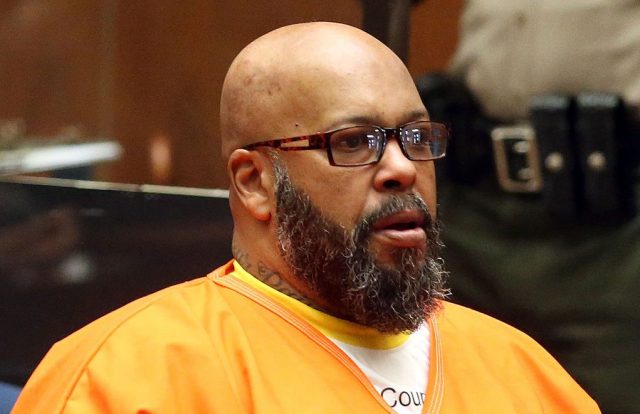 A chaotic couple of weeks of court hearings preceding the murder trial of hip-hop mogul Marion "Suge" Knight, have some in the legal community looking at the prosecution's tactics with some scrutiny, according to the Los Angeles Times.
Knight has been in jail since 2015, when he was arrested for allegedly hitting two men, Terry Carter and Cle "Bone" Sloan with his truck in a parking lot after a disagreement on the set of the 2015 film Straight Outta Compton, killing Carter. Many in Knights circle have sustained a lot of attention from the prosecution, law enforcement, and investigators for various forms of alleged obstruction of justice.
A lead investigator received some confidential information in 2016 that suggested that Knight's legal team and his fiancée were "attempting to cultivate witnesses to testify falsely on the defendant's benefit."
Sheriff's detectives were given permission to listen to some of Knight's conversations with his attorneys while in jail. Initially it was ruled by a judge that investigators were allowed to listen unless Knight was speaking directly to his lawyers or a defense investigator, however this was overturned months later when detectives allegedly found that Knight's attorneys, Matthew Fletcher and Thaddeus Culpepper, were discussing attempts to bribe potential witnesses for favorable testimony.
The implication of Fletcher and Culpepper led to their Jan. 2018 arrests, though both lawyers were released the next day. According to the L.A. Times, the arrests were performed by detectives without any kind of consultation with the District Attorney's office as to if charges would be filed by prosecutors or not.
Criminal defense attorney Lou Shapiro in speaking to the Times expressed his discomfort with the haphazard arrest and release of the lawyers, claiming "there was no need for the drama, and that bothers everybody."
The access to Knight's phone calls also implicated his fiancé, Toi-Lin Kelly. Kelly was accused of selling surveillance video of the parking lot incident to TMZ for $55,000, though a judge ruled that the footage should not be given to the media. Kelly pleaded no contest, and was barred from contacting Knight or members of his legal team. A judge later ruled Friday that Kelly later violated her probation by helping Knight defy a court order that limited his communications while in jail. Kelly was then sentenced to 3 years in jail herself.
Two journalists following Knight also became involved with law enforcement. It was discovered that Knight had been using another inmate's identification number to make calls to filmmakers Nora Donaghy  and William Erb, who are making a film for BET involving Knight, set to be released this year. Both were served subpoenas to testify in front of a grand jury, and Donaghy's phone was seized, but it was announced by Sheriff Commander Steven Katz that the phone was returned without searching the contents.
District Attorney spokeswoman Shiara Davila-Morales, claimed in an email sent to the Times that Knight's case "is being handled no differently" from any others. This sentiment is co-signed by Katz, who claims that the implication of attorneys in potential misconduct "creates a unique set of circumstances." Still that has not kept attorneys from feeling anxiety about the way that the prosecution is handling the situation.
[Image via Frederick M. Brown/Getty Images]
Have a tip we should know? [email protected]