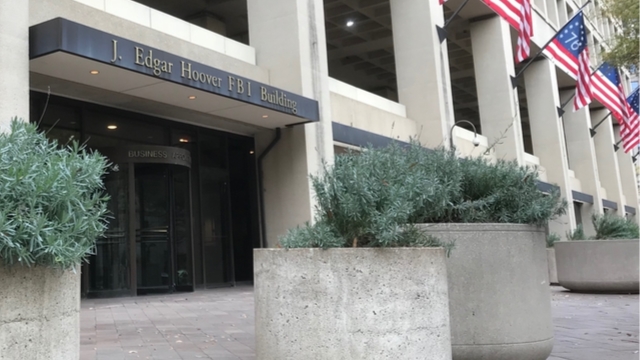 The FBI Tuesday morning bragged online about the federal sentencing of Gregory Allen Justice, a former federal contractor, who now has to spend five years in prison for attempting to sell "sensitive satellite information" to someone he thought was a Russian agent. The Russian agent was really an undercover FBI agent. Big win for the FBI, right? Well, yeah, but let's look at the timing:
Gregory Allen Justice—who worked for a cleared government contractor in California—was arrested for selling sensitive satellite info to someone he believed was a foreign agent. https://t.co/1fDZhpP2lg pic.twitter.com/DrB4s02kfi

— FBI (@FBI) February 6, 2018
The tweet, sent Tuesday morning, links to an article published Monday on the FBI's website.
What's interesting here is that arrest, which the FBI is just now touting, actually happened in 2016. Indeed, the wheels of justice turned quickly in this case:  the defendant pleaded guilty in 2017 and was already sentenced five months ago. That's right: Gregory Allen Justice, 50, of Culver City, California, was actually sentenced in September 2017 according to this release from the Department of Justice. Back at sentencing, both the DOJ and the FBI commented that selling state secrets might be entertaining on television, but in reality is no laughing matter. That was a response to the defendant's statements that he wanted to build a relationship with his undercover handler similar to the relationships depicted in popular culture espionage depictions. The FBI later said the defendant had a keen interest in spy novels, spy programs, spy movies, and took spy classes online.
But what is funny here is not so much the defendant's penchant for spy novels, but rather why the FBI is suddenly talking about this arrest yet again — and on the heels of claims that the agency is handling cases like the Russia election interference probe and the Hillary Clinton email investigation based on political leanings rather than the purer basis of what is legal and what is not. Just like clockwork, the immediate response to this re-hashing of old news was positive:
Speedy and effective. Keeping America safe. Thank you.

— Laura (@mybellavino) February 6, 2018
We love you all FBI and thank you all for your dedication and never-ending research on subjects that could be detrimental to our country and the world.🇺🇸 #BernieOrBust4Trump

— BERNBAN GEORGESOROS (@kobiashimarro) February 6, 2018
Then, however, the tune started to change, with sarcasm, skepticism, and criticism dripping through the chain of tweets:
Christopher Steele is a foreign agent. Why hasn't the FBI arrest him for his interference in the election? I think the FBI is living on past glories, the once toughest agency in world is now a laughing stock. Filled up with democrats politicians.

— Henry (@henry_best_hb) February 6, 2018
But Hillary remains free! Laws don't apply to some!

— Dirk D. Igler (@commonplace110) February 6, 2018
Justice pleaded guilty in May 2017 to one count each of attempting to commit economic espionage and attempting to send restricted information out of the United States in violation the Arms Export Control Act and the International Traffic in Arms Regulations.
Justice told his undercover FBI handler that he was more than willing to fork over the secret data because he needed the money to pay for his wife's medical bills. Hysterically, though, Justice really spent the cash — about $3,500 — to buy things for an online girlfriend he'd never met in person. He also forked over $20,000 of his own money to buy things for her, the FBI discovered. The defendant had even suggested he could get his handler inside his workplace for a tour — wearing special spy glasses, of course.
Justice had been a federal contractor for sixteen years. The FBI said his work involved military satellites and included "satellite operations testing, firmware installed on satellites, and anti-jamming technology." Justice met with his FBI handler, whom he thought was a Russian agent, a total of six times at coffee shops and hotel rooms. Justice provided the secret data on thumb drives which he was able to plug into his employer's computer system, the FBI said.
[Image via Jerome460/Shutterstock]
Have a tip we should know? [email protected]
Aaron Keller - On Air Host