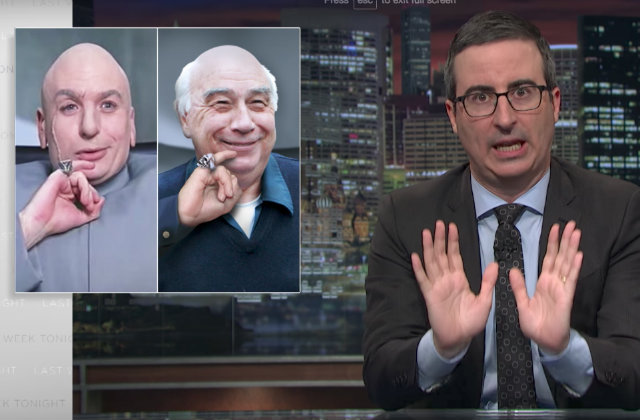 On Tuesday, the American Civil Liberties Union filed an amicus brief on behalf of TV host John Oliver, one of the defendants in a defamation lawsuit by coal executive Robert Murray and his companies. And boy, do they just poke fun at this complaint. The plaintiffs are suing in part because Murray was compared to, among other things, a "geriatric Dr. Evil" in a June 18 episode of Last Week Tonight. The ACLU's response is double-barreled snark.
"And with regard to the Dr. Evil remark, it should be remembered that truth is an absolute defense to a claim of defamation," they argued.
The ACLU defended this claim in a footnote.
"It should be noted that the very mean comparison arose from both a striking physical resemblance between the two characters and a statement by Plaintiff's General Counsel with an uncanny similarity to statements made by a more youthful Dr. Evil," they said.
By way of background, in the segment that Oliver is under fire for, he referenced a separate 2001 defamation lawsuit. In that lawsuit, Murray's attorney said that $1 billion worth of economic loss was caused by a story from the Akron Beacon Journal. Oliver referenced the complaint in his segment, leaning in on the Dr. Evil comparison (check 14:08 in the video below).
All in all, the Dr. Evil defense is just one example of snark in the ACLU's brief. There is the phrase "they clutched their pearls," gleeful references to a human-sized squirrel named Mr. Nutterbutter, and a subheader that reads "You Can't Sue People for Being Mean to You, Bob."
Read the whole thing here:
ACLU Brief on Behalf of John Oliver by LawNewz on Scribd
Jokiness aside, the ACLU argues that the plaintiffs' motion for a temporary restraining order and preliminary injunction is unconstitutional.
"With Plaintiffs' request for a (1) prior restraint (2) that is a content-based restriction (3) on a matter of public concern (4) related to a public figure, they have really hit the protected speech jackpot!" they wrote, later arguing that the case be dismissed, and the plaintiffs sanctioned.
Murray, and his companies sued Oliver on June 22 over the segment–The episode show claims he was part of various wrongdoing, including misrepresenting the cause of a fatal mine collapse. The segment was "false, injurious and defamatory," and politically motivated by opposition to the Trump administration, plaintiffs said.
LawNewz.com editor Ronn Blitzer argued that they have an uphill battle, to say the least:
First off, in order to win a defamation case, a person has to show that someone made a statement to a third party (like a television audience) that is 1) damaging and 2) false. Additionally, if the person is a public figure, like a CEO who makes television appearances might be, they have to prove 3) actual malice, meaning that the statement was made with knowledge that it was false or reckless disregard for whether it's true. Oliver's show may well be damaging, but from what I've seen, it all appears to be true, and Oliver has good grounds to base that on, even it turns out he was incorrect.
[Screengrab via HBO]
Have a tip we should know? [email protected]