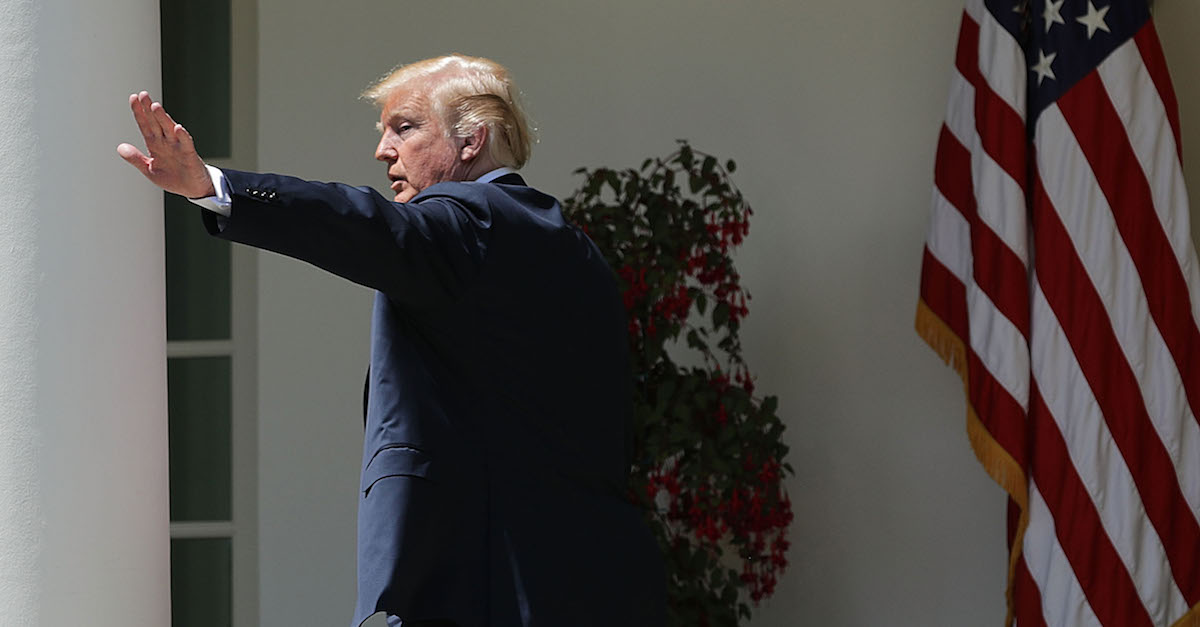 President Donald Trump reportedly ignored advice from his inner circle not to call his longtime personal attorney Michael Cohen after the raid of Cohen's office, home and hotel room by the feds.
If true, this has potential to backfire in a major way for Trump because NBC News reported a bombshell Thursday afternoon that said the feds tapped Cohen's phones and intercepted "at least one phone call between a phone line associated with Cohen and the White House."
The key details of the report are that there was a wiretap in place in the weeks leading up to the Cohen raid. After that, there is the detail that that at least one call from a Cohen line to the White House was intercepted.
But embedded deeper in that report were also a couple of nuggets regarding how Trump was reportedly ignoring advice about communicating with Cohen.
It is unclear at the point if the wiretaps were still in place after the raid. However, they certainly could have been.
NBC News said that Trump's legal team advised Trump not to speak to Cohen after the raid and that Trump's newly minted attorney Rudy Giuliani, whose adventures on cable news Wednesday night into Thursday morning are still being discussed, "learned that days after the raid the president had made a call to Cohen."
Giuliani reportedly told the president never to call Cohen again because those calls might be recorded by federal prosecutors.
This could be problematic for Trump, but of course this depends on what was said on the phone and whether the post-raid call was recorded.
Editors' note: Hours after the NBC News story was published, NBC News issued a correction on MSNBC, saying that what federal investigators actually did was not a wiretap but a pen-register.
CORRECTION: Feds have pen-register, not wiretap on Michael Cohen pic.twitter.com/gXLckdKPeX

— MSNBC (@MSNBC) May 3, 2018
The two reporters on the story, Tom Winter and Julia Ainsley, also issued the correction on Twitter.
Correction: Michael Cohen's calls are being monitored but not being listened to. Pen register and not wiretap.

— Julia E. Ainsley (@JuliaEAinsley) May 3, 2018
Correction: Earlier today NBC News, and this reporter, said that Michael Cohen's phone lines were wiretapped. 3 Senior U.S. Officials now dispute that, saying the monitoring was limited to a log of calls (pen register) not a wiretap of Cohen's lines. We will continue to report.

— Tom Winter (@Tom_Winter) May 3, 2018
Former SDNY prosecutor and CNN legal analyst Preet Bharara explained this is "much less intrusive than a wiretap" and "no actual phone call content is listened to."
NBC has now retracted its "scoop" about a wiretap. A pen register is much easier to get and much less intrusive than a wiretap. No actual phone call content is listened to. Basically it's a real-time log of calls. https://t.co/KZxZrkF9Kb

— Preet Bharara (@PreetBharara) May 3, 2018
[Image via Chip Somodevilla/Getty Images]
Have a tip we should know? [email protected]