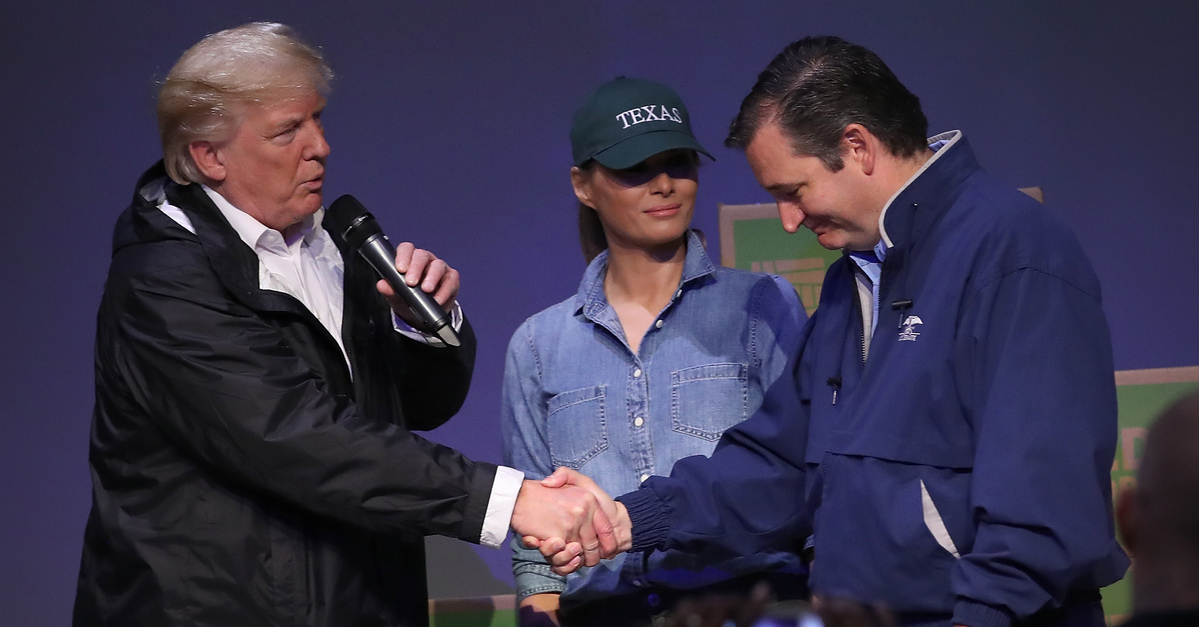 As news of President Donald Trump's potential David Pecker immunity problem spreads across the ether and into the increasingly panicked halls of the White House, it's worth recalling an interesting statement released by Trump's 2016 presidential campaign.
On or around March 23, 2016, a story bubbled up from the rumor mill of Texas politics into the pages of the National Enquirer. That story had to do with U.S. Senator Ted Cruz and allegations of serial marital infidelity. At the time, Cruz, a Tea Party-and-evangelical-aligned conservative, was in a vicious primary battle with then-candidate Trump.
Essentially running on his Dominionist (re: arch Christian conservative) bonafides, the National Enquirer story seemingly hit Cruz where it hurt: Questioning the candidate's personal and Christian morality. Yellow (and black and red) headlines blared:
IT'S OVER FOR PERVY TED
CRUZ'S 5 SECRET MISTRESSES!
After the story broke, the Cruz 2016 campaign immediately accused Trump's 2016 campaign of planting the piece–specifically well-known "ratfucker" and dark arts operative Roger Stone.
As Cruz's response noted, the political term "ratfucker" was actually coined to describe the sort of dirty tricks employed by Stone and his fellow travelers. The Canadian-born, Texas-based senator said, at the time:
And I would note that Mr. Stone is a man who has 50 years of dirty tricks behind him. He's a man whom a term was coined for copulating with a rodent. Well let me be clear, Donald Trump may be a rat but I have no desire to copulate with him. And this garbage does not belong in politics.
Cruz also noted that Trump had tweeted a threat to "spill the beans" about Cruz's family just the day before the story's publication. This, Cruz asserted, was no accident.
The Trump campaign's response reads like a masterclass in projection and obfuscation. Basically, it was chock full of subterfuge and lies. The campaign's official statement of denial reads, in full:
I have no idea whether or not the cover story about Ted Cruz in this week's issue of the National Enquirer is true or not, but I had absolutely nothing to do with it, did not know about it, and have not, as yet, read it. I have nothing to do with the National Enquirer and unlike Lyin' Ted Cruz I do not surround myself with political hacks and henchman [sic] and then pretend total innocence. Ted Cruz's problem with the National Enquirer is his and his alone, and while they were right about O.J. Simpson, John Edwards, and many others, I certainly hope they are not right about Lyin' Ted Cruz. I look forward to spending the week in Wisconsin, winning the Republican nomination and ultimately the Presidency in order to Make America Great Again.

–Donald J. Trump
Of course, Donald Trump and his campaign had an awful lot to do with the National Enquirer.
As Michael Cohen's guilty plea indicates, the tabloid's parent company was induced by Cohen to issue a $150,000 hush-money payment to former Playboy playmate Karen McDougal in a bid to influence the 2016 presidential election. And according to Cohen's plea, this hush-money payment (and at least one other like it) was made at the direction of candidate Trump himself.
If this all seems a bit tawdry, well, it is. We're discussing a presidential candidate and eventual president's reliance on the tabloid press to silence his critics and allegedly tarnish his enemies names. But lest we forget: the central focus of a supermarket rag's role in a publicly unfolding conspiracy has been quite a long-time coming.
[image via Win McNamee/Getty Images]
Follow Colin Kalmbacher on Twitter: @colinkalmbacher
Have a tip we should know? [email protected]