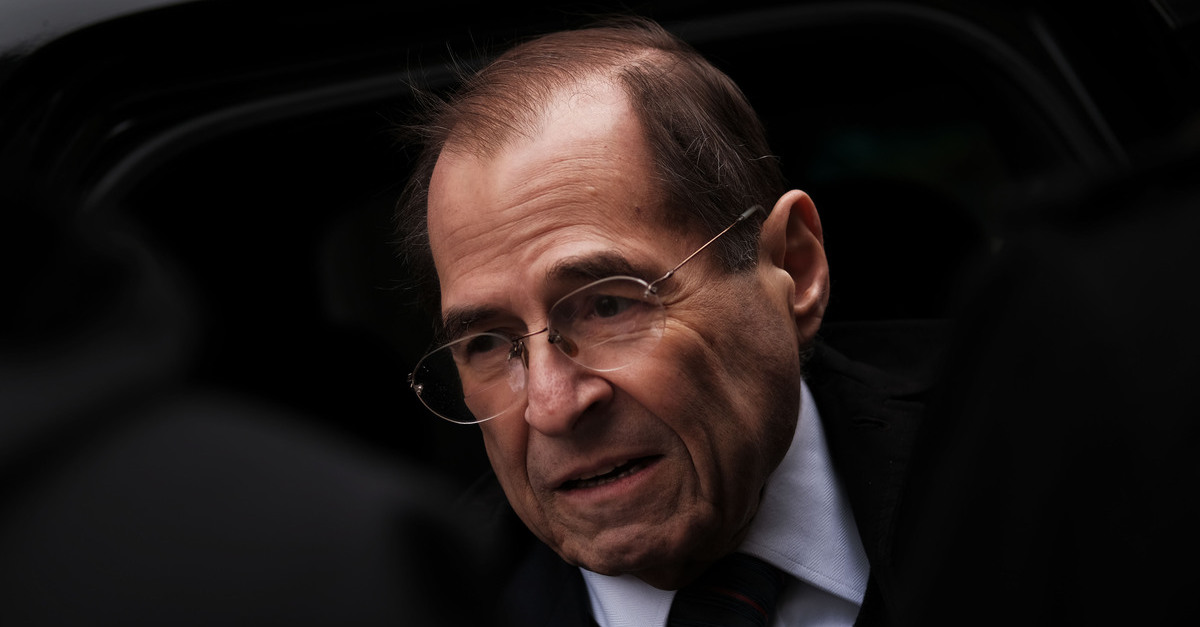 House Judiciary Committee Chairman Rep. Jerrold Nadler (D-N.Y.) has issued several denunciations of the role so-called "dark money" plays in American politics. This Friday, however, Nadler is set to provide a private briefing to a group of wealthy donors who make up one of the largest dark money liberal interest groups working in the country today.
The Democracy Alliance (DA) is a loose affiliation of millionaires and billionaires which describes itself as "the largest network of donors dedicated to building the progressive movement in the United States" and is registered as a taxable non-profit. Due to its corporate status, DA is under no obligation to disclose its donors.
The organization has been described as an "exclusive club of several hundred wealthy donors" by traditionally center-left magazine Mother Jones, which criticized the group for "raising and spending gobs of cash from undisclosed, wealthy political donors" as "an unusual strategy to achieve its mission of ridding U.S. politics of the corrupting influence of big money."
According to internal DA documents obtained by conservative outlet the Washington Free Beacon, Nadler is set to provide the liberal donor network's well-heeled membership with an update on congressional efforts to investigate President Donald Trump during an address titled, "After the Mueller Report: What's Next?"
We will be joined via live video by House Judiciary Committee Chairman Jerrold Nadler, American Constitution Society President Caroline Fredrickson, and Center for American Progress President Neera Tanden to bring us up to date on where we stand in myriad investigations into Trump's corruption and abuses of power.
Nadler's private audience with his party's jet-setting donor class reportedly comes as a last-minute addition to DA's Spring 2019 Partner Retreat and Strategy Conference, which is being held at the Four Seasons luxury hotel in downtown Austin, Texas on April 3-5.
Nadler's apparent appreciation for dark money as long as it comes from his side of the aisle stands in stark contrast to a recent statement issued by Nadler's office in January of this year.
Advocating for House Resolution 1–an omnibus voting rights and anti-corruption bill named the "For The People Act of 2019"–Nadler repeatedly railed against the use of dark money in politics.
"In addition to enhancing voting rights protections, H.R. 1 takes aim at the increasing dominance of big money and dark money in politics, and influence peddling, all of which take governing decisions away from ordinary people, and diminishes their faith in government," the press release notes. "For example, the bill outlines the many important reasons why the Supreme Court's decision in Citizens United v. F.E.C., which unleashed a flood of dark money in politics, must be overturned."
This isn't the first time that Nadler's selective outrage has been noted on a hot button political issue.
As Law&Crime previously reported, Nadler was keen to protect then-president Bill Clinton from impeachment over obstruction of justice charges–even if it had been proven that Clinton committed the alleged infraction. Nadler, of course, hasn't ruled out impeaching Trump over obstruction of justice–though he did say there is a "high bar" to making such a move.
Nor is this the first time Democrats have faced scrutiny over the discord between their public and private relationship with dark money.
Politico reported the following during DA's 2014 confab at Chicago's glitzy Ritz-Carlton:
Few donors or participants spoke to POLITICO on the record. Top Obama White House aide Valerie Jarrett, New York City Mayor Bill de Blasio and Kentucky Democratic Senate candidate Alison Lundergan Grimes all ignored questions about whether Democrats are hypocritical on big money as they walked between a bank of elevators in the lobby and a promenade leading to the rooms hosting the DA panels and speeches.

Jarrett refused to make eye contact with a reporter asking such a question…
[image via Spencer Platt/Getty Images]
Have a tip we should know? [email protected]