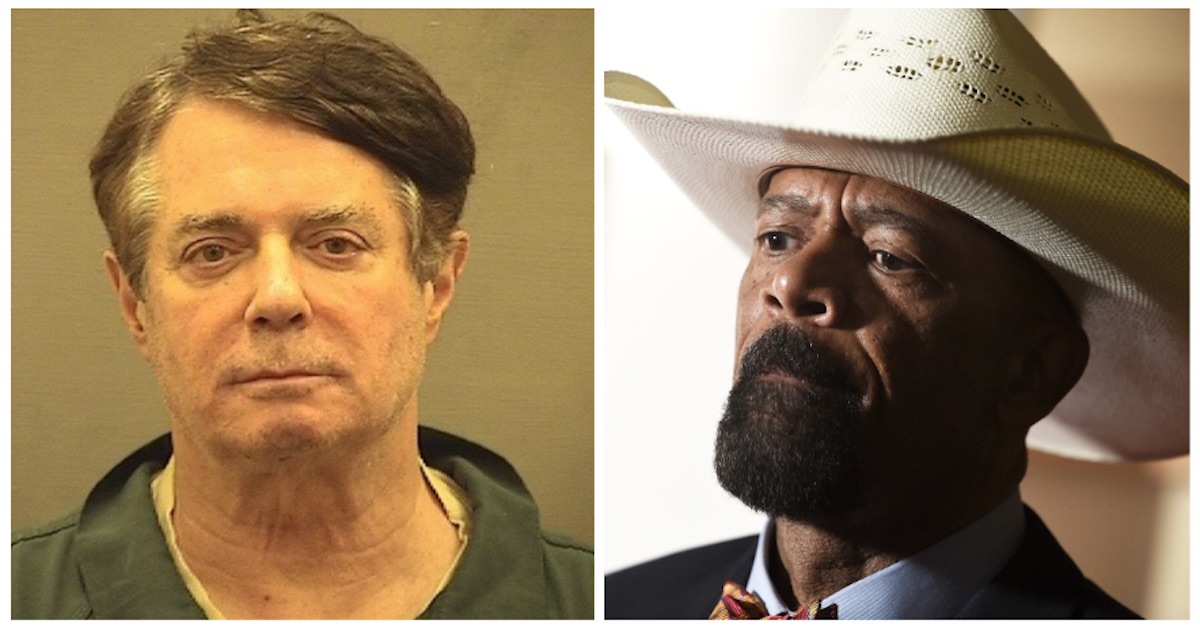 Fox News pundit and former Milwaukee County Sheriff David Clarke has decided to defend convicted felon and former Trump campaign chairman Paul Manafort by questioning why a "sob story" about a black inmate was published in the Chicago Tribune.
"Don't remember ANY Lying Lib News outlet writing sob stories about Paul Manafort being held in solitary confinement 24-7 as a form of torture to squeeze him into making something up about @realDonaldTrump. Where was the concern for HIS mental well-being?" he said.
Clarke was referring to the Tribune story, "How solitary confinement drove a young inmate to the brink of insanity." The story discusses the "crushing isolation of solitary confinement," as experienced by "a desperate inmate named Anthony Gay." Gay spent 22 years in solitary.
There weren't any sob stories about Paul Manafort because his story was extremely different. Quite the contrary of being driven to "the brink of insanity," Manafort was stashed in what had been described as "VIP" jail conditions at the Northern Neck Jail in Warsaw, Virginia until his trial in the Eastern District of Virginia.
Bear in mind that Manafort was out on pre-trial release before Special Counsel Robert Mueller accused him of witness tampering and hit him with additional charges for allegedly attempting to influence two witnesses who could speak to the foreign lobbying charges against him.
After that allegation was made, Judge Amy Berman Jackson ordered Manafort to go directly to jail. Even though Manafort was jailed, however, the conditions he was afforded there were a far cry from the "torture" Clarke described.
Manafort and his attorneys tried to argue months ago that his jail conditions at Northern Neck were preventing him from adequately preparing for trial. While Northern Neck Jail was a solid two hours outside of Washington, D.C., Manafort still had plenty of freedom.
"It is incorrect that Manafort has 'very limited access to his attorneys and the records," Mueller prosecutor Andrew Weissmann said at the time, pointing out that Manafort said on the phone, "I've gone through all the discovery now."
Team Mueller said that "Between the hours of 8:30am to 10:00pm, Manafort [had] access to a separate workroom at the jail to meet with his attorneys and legal team" and that "Visitor logs from the prison indicate[d] that each week Manafort has had multiple visits with his legal team." Then came the other details:
On top of that, Weissmann noted, Manafort has his own room (larger than others), his own phone line, and his own laptop, with an extension cord that lets him work from his bedroom instead of his private work space. Phone logs show that he has made more than 300 calls, including more than 100 to his lawyers. While calls are limited to 15 minutes each, there's no limit on how many calls he can make. Calls with lawyers are not monitored.

Besides those perks, Manafort also has his own bathroom and shower, and he doesn't have to wear a prison uniform.

"On the monitored prison phone calls," Weissman wrote, "Manafort has mentioned that he is being treated like a 'VIP.'"
Laptops, private work space, a bathroom, a shower, and no prison uniform. The "VIP" conditions wouldn't last, after Manafort's legal team tried and failed to get the trial venue moved to Roanoke on the grounds that it would ensure a fair trial. Judge T.S. Ellis III ultimately rejected this and moved Manafort to the home of traitors, terrorists and spies: the Alexandria Detention Center.
Manafort was tried and convicted on eight felony counts in the Eastern District of Virginia (with a hung jury on 10 other counts), and subsequently reached a cooperation agreement with the special counsel to avoid a second trial. Months after that deal was struck, the deal fell apart. Mueller claimed that Manafort breached his agreement with prosecutors and lied repeatedly when questioned:
After signing the plea agreement, Manafort committed federal crimes by lying to the Federal Bureau of Investigation and the Special Counsel's Office on a variety of subject matters, which constitute breaches of the agreement. The government will file a detailed sentencing submission to the Probation Department and the Court in advance of sentencing that sets forth the nature of the defendant's crimes and lies, including those after signing the plea agreement herein.
All of this is to say that what happened to Paul Manafort was not the result of 24/7 "torture," but of his own alleged illegal actions.
[Images via Alexandria Detention Center, Shannon Finney/Getty Images]
Have a tip we should know? [email protected]