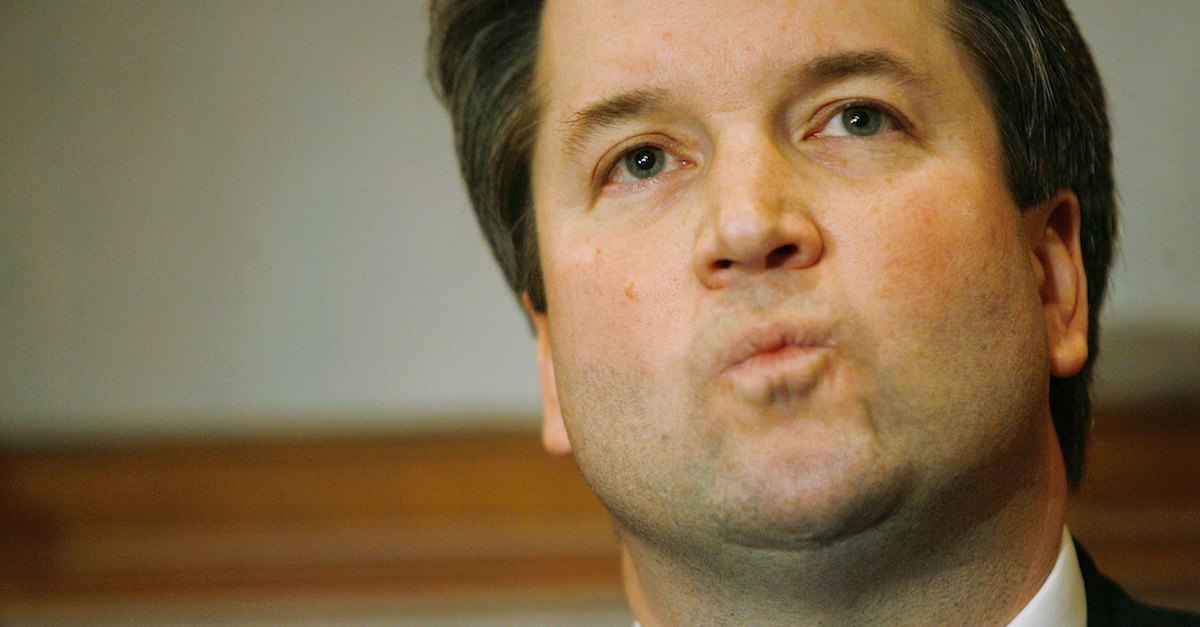 Supreme Court nominee Brett Kavanaugh appears to have misled Congress during his confirmation hearings when he was first nominated to sit on the federal bench in 2006.
During those hearings, Kavanaugh assured senators that he "was not involved in the questions about the rules governing detention of combatants." In fact, Kavanaugh took part in at least one such discussion at the very least.
In May of 2006, Kavanaugh's three-year-stalled nomination for an open position on the D.C. Circuit Court of Appeals was finally heard by the Senate. Democrats had yet to retake the Congress and President George W. Bush was not yet in the lame duck stage of his presidency. Kavanaugh's confirmation hearings were still a bit raucous, however, but he appears to have the made the most of that opportunity.
A controversial choice from the jump, Kavanaugh was a senior staff attorney in the Bush White House during the administration's infamous (and unlawful) endorsement and use of torture. One of many major sticking points during those hearings was Kavanaugh's role, if any, in crafting the unlawful torture regime as well as the legal black hole that made up the administration's so-called (and similarly unlawful) "enemy combatant" regime.
Senator Dick Durbin (D-IL) was grilling Kavanaugh on exactly that point. He asked, "What was your role in the original Haynes nomination and decision to renominate him?" William Haynes was one of many architects of the Bush administration's illegal torture program–and was later nominated to serve as a judge himself.
Durbin continued, "And at the time of the nomination, what did you know about Mr. Haynes's role in crafting the administration's detention and interrogation policies?" To which Kavanaugh replied:
Senator, I was not involved and am not involved in the questions about the rules governing detention of combatants, and so I do not have any involvement with that.
A very diplomatic response, to be sure.
(Kavanaugh was ultimately confirmed by a vote of 57-36–including four Democrats–though only one of those Democrats, Tom Carper of Delaware, is still in the Senate today. Carper now says he won't vote to confirm Kavanaugh a second time.)
But then the dang facts got in the way. As NPR reported in 2007:
"In fact, in 2002, Kavanaugh and a group of top White House lawyers discussed whether the Supreme Court would uphold the Bush administration's decision to deny lawyers to American enemy combatants. Kavanaugh advised the group that the Supreme Court's swing voter, Justice Anthony Kennedy, would probably reject the president's assertion that the men were not entitled to counsel. Kavanaugh had worked as a clerk for Kennedy. That meeting was first reported in The Washington Post. NPR independently confirmed the details with multiple sources."
Aside from his spending, sports-viewing and (lack of) drinking habits, Democrats haven't quite settled on a salient line of attack as they prepare a semi-united front in opposition to Kavanaugh's Supreme Court nomination.
But another of Kavanaugh's habits–his apparent tendency toward dishonesty–might form the gel needed for the judges' opponents to finally stick together and hold firm.
[image via Photo by Chip Somodevilla/Getty Images]
Follow Colin Kalmbacher on Twitter: @colinkalmbacher
Have a tip we should know? [email protected]