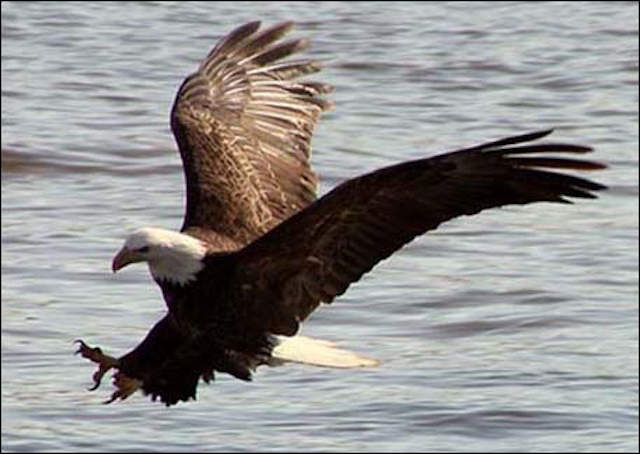 A man in Virginia shot and killed a bald eagle earlier this year after the unfortunate bird allegedly made itself a nuisance by eating small game and fish on the man's property.
Allen H. Thacker, 62, pleaded guilty to a misdemeanor violation of the Bald and Golden Eagle Protection Act on Tuesday. He faces up to one year in prison and a maximum fine of $100,000.
According to court documents, the eagle was killed on March 13 in Smithfield, Virginia. A woman reported seeing a man in a red all-terrain vehicle (ATV) repeatedly run over a bald eagle and then drag its body into the woods.
Local conservation authorities were unable to locate the bird, but they did find Mr. Thacker atop his red ATV. He admitted to shooting the eagle because its eating habits were taking a toll on what he believed to be his property.
Thacker said he first fired a warning shot but that it didn't work. So, then he shot the bird with a .22-caliber rifle before finishing it off with a pistol. Initially, he denied running it over with his ATV, but eventually admitted to that part of the story as well. A necropsy of the eagle found no evidence of a pistol wound; its death was caused by blunt force trauma to the head.
Days later, Thacker was interrogated by agents from the U.S. Fish and Wildlife Service. He told them the bald eagle upset him because of all the hard work he had put into his property, so he killed it.
At this second interview, Thacker also tore into the bald eagle protection regime–saying that too much emphasis is given to their preservation because they're essentially pests and nuisances. Bald Eagles were removed from the Endangered Species Act protection list in 2007, but are still protected by a variety of laws.
Thacker's sentencing hearing is scheduled for late October.
[image courtesy U.S. Fish and Wildlife Service]
Follow Colin Kalmbacher on Twitter: @colinkalmbacher
Have a tip we should know? [email protected]